Charlie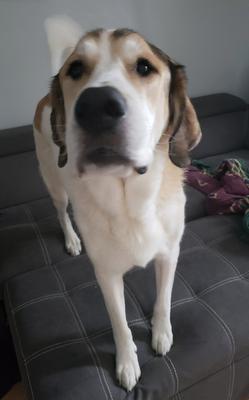 Charlie, only 7-years-old, Hound?/Pyr mix, came to us when his owner felt that he was depressed after moving from the country to the city. She wanted to do the right thing, as difficult a decision it was for her, for Charlie and asked us to find him a country home where he would be happy again.

He was losing weight. His family did all the rights things. He had tests at the vet, but they didn't turn up anything that indicated he was sick. In fact, he was, by all accounts, a healthy dog so she felt he must be depressed about being in the city.

We would find him a home in the country. And, that we did. Sadly, Charlie passed away in his new home in his sleep two days later.

Charlie was a very loving dog who was raised with young children, cats and another canine.

Our heartfelt condolences go out to his families.
Join in and write your own page! It's easy to do. How? Simply click here to return to Rainbow Bridge.
---
---