Courtesy Posting - Noah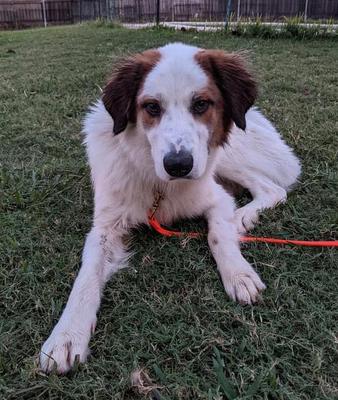 *ADOPTED*

About Available - Noah

Adoption Fee: $450

English Setter / Pyr mix

DOB: March 2021

Location: Texas at present but he will be moving (see below for transportation information)


Socialization/training:
Noah still requires additional socialization with dogs as he was noted to be dog reactive. He is great with a family environment, loving my teenage children during his time at foster. He is very polite when meeting people as he does not jump and will sit to be greeted. He knows sit, lie down, and shake. We are still working on counter surfing and redirecting from inappropriate objects such as shoes, pens, and books.

Crate trained:
I have not experienced using a crate with Noah in my home. It has been mentioned previously that he does not do well and will destroy the crate. A highly recommended program is the Online Crate-training program

Leash trained:
Yes. Noah understands the purpose of the leash and is ready to go whenever you are! He is a very strong boy and will pull during walks so I would not suggest any type of collar/harness. We are using a gentle leader over his nose/neck, and he is now a perfect walker! He is still getting used to it and will try to take it off, but I help him itch it a little then we are on our way

Activity Level:
Noah has puppy energy so he is very playful but will also nap. He has a very soft mouth and gently plays with his toys; even dropping them from his grasp instead of playing tug of war. He is very much a Great Pyrenees in nature and has a deep bark. He alerts to noises, people walking past the house, or anything he feels is out of place. He will require daily exercise/walks.

Fence:
Noah would do very well in a large yard preferably fenced 6' and very sturdy. He will jump on the fence and is strong enough to knock out loose boards. Previous foster said he will dig but I have not had any issues here and if he goes outside, I am always with him.

Behaviour:
He is Absolutely Loveable!! Noah enjoys pets/hugs and will let you do just about anything (even dragging him across the floor), but when play time is done, he wants his own space. He is independent wanting to lay on his own couch/chair as long as you are in the same room. He is not a cuddler yet (I think he gets too hot with his coat) but is always affectionate!

Medical History:
Neutered, microchipped, UTD on vaccinations, on HWP and flea/tick preventative.

Noah will require monthly trimming of his double hind dewclaws to prevent snagging and possible injury or infection. He is a healthy boy!

Foster Comments:
Noah is going to be an amazing dog for whomever adopts this gentle giant! His personality is so easy going and he has lots of energy for attention/playtime. One of my favorite quirks about Noah is that when you come home, he "boops" your butt! Not sure if he is just checking if its you or if he is trying to nudge you inside, but its his thing and it's cute. In reference to his dog reactivity, I want to make sure his new family is willing to put the work in to socialize him.

During my experience he has pulled on his leash and barked at dogs behind fences or along our walks. He barked at people working in their garages as we pass but we just keep going. While he is a great car rider, he will bark at the person in the car next to you at the stoplight. Picking up my daughter at school with him is also a bark fest due to the children walking by the car. He wants to say hello to everyone - we just need to show him how to do it politely! He needs to be the only dog in the household and is picky about his dog friends so slow introductions are important. Some dogs he will never be friends with, and we are not sure how he decides who he likes and doesn't like.

Foster Location: Austin, TX

Volunteer transport can be arranged in the Continental US within a 1,000-mile distance between adopters' foster home. If interstate transport is provided for your adopted dog, there will be an additional charge of $50.00 for the required Certificate of Veterinary Inspection ("Health Certificate"). Typically, we are able to transport your adopted dog to within 2 hours of your home.

*Dogs can be adopted outside the 1000-mile transport distance (exception will be made for the right family); however, adopters must be willing to either fly their adopted dog, drive to a location within the 1000-mile transport range, or make independent transport arrangements for their adopted dog. Transports to far Western states, from Eastern states, may have additional restrictions.

Details

Name
Available - Noah

Age
10 Months, 2 Weeks and 3 Days

Gender
Male

Size
Large

Weight
61

Primary Color
White

Secondary Color
Orange

Shots up to date
YES

Ok with kids
Not Sure

Housetrained
YES

Hypoallergenic
NO

Spayed/Neutered
YES

Ok with dogs
NO

Ok with cats
Not Sure

Country of Origin
USA

If you have questions regarding this sweetheart, please contact barb.stronach1@gmail.com.

The interested parties would need to fill out the application form found at ES Adoption Form. There is a $25 non refundable application fee, and all costs are US dollars as it is a US organization.