Delilah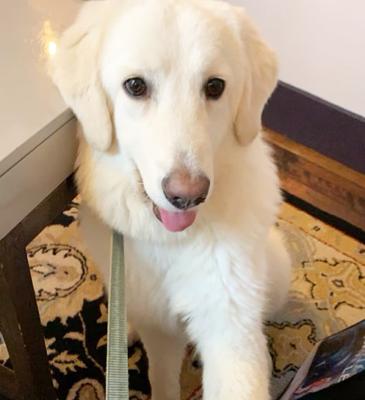 *ADOPTED*

This little girl, Maremma mix, was found, with Avi, as a stray by an animal services group. They contacted us to bring them in. She has now found her most over-the-moon home.

This is from her new family:

Delilah is an absolute dream! We are soooo in love with her! She is very sweet and just wants to play with everyone. We are teaching her manners and how to give everyone space and she is a very quick study! We had her house trained within a few days and she is VERY food motivated so she has been really receptive to our training.

She is VERY interested in the cat - we've been monitoring them very closely as we weren't sure what her history with small animals was like but she just really REALLY wants to play with the cat - despite a few scratches and hisses she gets lol! She is learning quick though how to respect the cat's space as well.

She has gotten a bit nervous when meeting some other dogs but we have been able to introduce her to them and give her the time and space she needs to meet new dogs (that don't live with her) and once she's warmed up all she wants to do is play play play!

She is an absolute dream and she perfectly completes our Pyr family ❤️ We honestly couldn't have asked for a more perfect dog for us!

Thank you for such a wonderful opportunity to take this girl on. We are over the moon and are so excited to help her explore the world and enjoy a beautiful life!
Return to Post A Happy Tail 2021.
---
---