Farley the Friendly
by Maryanne Pearce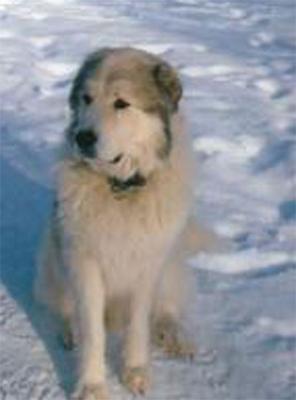 Great Pyrenees Rescue Farley
We are happy to report that Farley has found his forever home. Here was his story. Farley is a big teddy bear. He is 6 years old. His first owner moved overseas and he went to a shelter. His second family loves him very much. He has been through obedience training and is a sweet, loving dog. He has a "gentle mouth" when you are feeding him by hand. He does not beg food or steal from counters.

As is typical with pyrs, Farley requires a home with a fenced yard. What do you a call a pyr without a fence / leash? GONE! Yes, they are dis-a-pyrs. Farley did okay with an invisible fence except when there were thunder or other loud scary noises. In rescue, we generally require a fenced yard – not invisible fence – and this is very much so for Farley.

Farley loves to be brushed and is good about having his nails clipped. He has a cute habit of finding a damp facecloth and rubbing his face on it. He loves the smell of fresh laundry.

Farley's ideal home would be with lots of children or people to adore him. But he has also lived as an only dog with a single person – he is really quite adaptable. Do you have a yard, hugs and time to make Farley a very happy boy?





Return to Post A Happy Tail 2013.
---
---