Special Club Fundraiser Fall 2012
Hot on the heels of our successful auction for our Stained Glass Great Pyr ornament, we are offering a new set of unique, one-of-a-kind items as part of our fundraising efforts for 2012.
Yes here is another Silent Auction in support of our Great Pyr Rescue efforts.
Here are the details...
---
---
GREAT PYRENEES MITTENS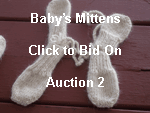 Anyone who has ever buried their fingers into the coat of a Great Pyrenees Mountain Dog will know just how warm it is. And anyone who has groomed a Pyr and held a handful of that wonderful, luxurious fur will tell you that it feels as if it generates heat, right in your hands, as you hold it.
So what better material to use to knit the warmest of warm mittens!
This auction has not only one or two great items to bid on... it has three. Yes, we are running three separate auctions simultaneously! You can think of it as our ABC auction. Yes, Adults, Babies and Children will all benefit from these wonderful items. So don't forget to place bids for each of the three items. Even if you don't have babies or children, these will make amazing gifts.
And remember these are one of a kind. To produce these beautiful mittens, the fur had to be carded, cleaned, spun and knitted... all by hand... old world style. These are real treasures and to own them all you have to do is click on the picture of the item you want and place your bid. Are you ready? Here we go...
Auction Item 1 - Adult's Mittens
Winter is fast approaching and it is time to get out your heavy clothing. What has to be replaced?
Do you or someone you know suffer from cold hands while out walking your Pyr? Well we have just the answer.
We are auctioning off a pair of Adult mitts, with the bidding to be completed by December 15, 2012 at midnight. Nancy Gilbert made these beautiful hand knit mitts with 100% PYR FUR. In the spirit of the Canadian Winter, a lovely red wool has been added so you will be in the height of Canadian fashion - decked in your red and white mitts.The mitts are 50% wool/50% Pyr Fur. No other dog fur has been used.
If you are not in the market for new mitts, what about a Christmas present for a loved one? You will receive these mitts in time to wrap them and place them under the tree, either from you or Santa.
All proceeds from the auction go to Pyr Rescue. A win-win situation.
Do not let this offer pass you by - it may never happen again.
Bid well and often - Good Luck.
Auction Item 2 - Baby's Mittens
With winter fast approaching, parents are often worried that their baby's hands are not warm enough when they are outside, either playing, sledding, or out for a walk in a stroller. Well, we have the perfect solution - baby mittens made from 100% PYR FUR - guaranteed to keep those little fingers and thumbs toasty warm.
These hand knit mittens (donated by Nancy Gilbert) are easy to slip on and take off - no thumbs to fiddle with. Having 2 pair is also a bonus - you always have an extra pair on hand in case one pair gets wet. Or they make a lovely match for twins.
No children of your own - no problem. These will be a much appreciated gift to a new Mom. Or what about a Baby shower gift? How thoughtful.
The auction is open until December 15, 2012 at midnight - lot of time to ensure that you get the mittens before Christmas - in case you need an extra gift to slip under the tree.
Once the baby has outgrown them, they will be fantantic keepsake - something to be treasured and kept to remind the family of their little ones first winters.
All proceeds from the auction go to Pyr Rescue.
Thanks for bidding and GOOD LUCK!!
Auction Item 3 - Children's Mittens
---
---