Great Pyr Rescue - Abbie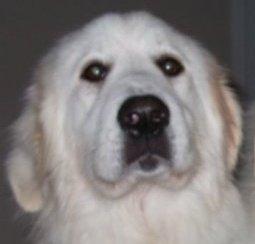 Great Pyrenees Rescue Abbie
We are happy to announce that Abbie has found her forever home and is living a happy, new life.

This was her story...

My name was Neige but my new friends now call me Abbie. I don't mind... I actually like it. New name... new life.

I came into foster care because I left my backyard and somebody took me in to the SPCA who, in turn, took me to the rescue people. I know I shouldn't have run out but I like exploring. It's the Pyr in me.

I am around 14 months old. I am a shy girl but when I get used to the routines of life I can be such a suck!

It has been rumored that I have been debarked so the city life with a dog park nearby would be perfect for me. My foster family is working on my shyness but when I reach 2 yrs old I should be tested to be a Therapy Dog because I would love the pets and loving I would get from seniors.

I need a fenced in back yard because I think running away when I am called is fun, even though it can get me into trouble. I have had some training. I can sit and I am working on stay and come. I am good on the leash and LOVE my walks. I am really looking forward to being with my forever family!

Won't you let me make you mine?

Please use the following contact information.

Southern Ontario: Dr. Carol Graham

Home: (519) 853-3005 - please leave a message

Clinic: (519) 855-6439 - provide information to receptionist if Carol not available

Please phone only between 10 a.m. and 8 p.m.



Ottawa / Eastern Ontario: Maryanne Pearce

Home (evenings / weekends): (613) 823-5445 - please leave a message and/or try cellphone

Cell: (613) 867-6346 - please leave a message

Please phone only between 10 a.m. and 8 p.m.