Great Pyr Rescue - Goliath
by Great Pyrenees Rescue Team
(Toronto area)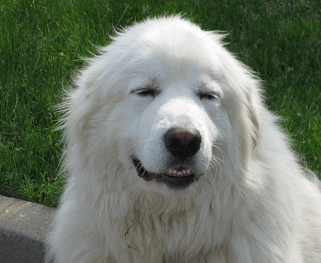 Great Pyrenees Rescue Goliath
Goliath arrived into our care on Saturday June 11. Unlike most of our rescues, Goliath is not grossly underweight, which is such a nice change.

Apparently Goliath was extremely good during transport and all of the transporters commented on how calm, gentle and loving he was. When we picked him up, he got into the car and lay down and went to sleep for his final stage to our home.

Goliath did not make strange at all but just fit right into the household. He and Wizard got along well and accepted each other, but Goliath wants to play and Wizard just walks away from him ? not putting up with this crazy 2 year old. So Goliath decided that he will just play with the dogs in the neighbourhood instead. This is working out well. But they go on walks together and there are no problems.

Goliath is more than happy to accept pats and love from us and anyone that wants to give it to him. He enjoys standing beside you, leaning into you as you pat him. He can not seem to get enough. He paws at you when you stop. He walks well on lease and is learning the rules quickly.

Goliath submitted well to being bathed, brushed out and dematted. He also was OK with getting his nails cut and the fur between his paws trimmed.

So far, there are only a few minor "problems"... he loves to chase squirrels... so he is truly a Pyr. Also, he is very hesitant to eat when you are near his food; in fact he walks away from his food when you approach. If he was really skinny and undernourished, I would say that it was because people took his food from him. But it does not seem to be the problem. So, we are not sure if there is a problem, but he certainly is not food aggressive. He is very dainty in taking treats or food from your hand... even his lips do not touch your hand.

Goliath loves to sleep with his back to a door; in fact he is almost plastered against the door. No one can approach him from behind that is for sure. He does bark at people or dogs passing but it is only to let you know that he is there. However, he ignores most cars and bikes and in fact did not bark at the garbage being picked up from the end of the driveway.

Goliath is a gentle, loving dog and will be a great addition to any family. He is looking for his forever home and his new family. IS THAT YOU?

If you want to make Goliath a member of your home please contact:

Dr. Carol Graham
Home: (519) 853-3005 - please leave a message
Clinic: (519) 855-6439 - provide information to receptionist if Carol not available
Please phone only between 10 a.m. and 8 p.m.