Great Pyr Rescue - Kira
by Great Pyrenees Rescue Team
(Ottawa - Quebec region)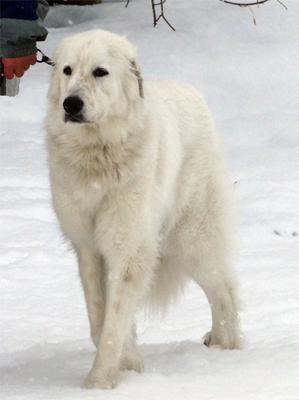 Great Pyr Rescue - Kira
Kira Anne
Kira has found her forever home. Our thanks to her new adopting family. This was her story...

Hi there! I'm Kira. I was born July 11, 2012. I'm a registered Great Pyrenees but my certificate didn't come with me. I think that my human lady left the house so fast that she didn't take it with her. I am microchipped and I can show you my pedigree though because Marianne has it on her computer somewhere. I'll ask her.

I lived with my human lady and man until January 10th when my lady took me for a 950 kilometre drive to Québec city. It seems that Marianne had made arrangements for me to stay with some good people until she could get me back to her place. The weather was icy rain and the roads were slippery but my lady had been told to leave the house immediately. We got to the Auberge des 4 pattes at 6:00 p.m. We had started out at 6:00 a.m.

You see, my humans were very happy together until this summer when they started to disagree on many things. Neither was happy. I used to sleep with my lady to comfort her. The man worked until late and she was lonely, I guess.

However, she had to leave the house and I had no home so she called Marianne.

One of the nice ladies in Québec brought me down to Montréal on the following Friday , another 3 hours drive. Then, Marianne picked me up from the Centre Canin Suroît that evening and I'm with her and her dogs in the kennel. At first, I wasn't sure of all this because I hadn't seen so many big white dogs before but after they had all barked their welcome to me, I've settled in and I run the fence line with them. (One of them is really funny. I've never seen a dog spin in circles when she gets excited.) There is so much new stuff to explore and see here, but I would really like to live in the house with her! I like sleeping in the house.

I like the raw food that Marianne feeds me though. I think she hopes I'll put on weight because she also gives me vitamins and fish oil and all sorts of things like that. I like that better than the dry food I had. I didn't eat all that much of it, only enough not to be hungry. I'd eat more of the raw food if she would give me more but she seems to think that I'm already eating more than the prescribed amount. Too bad. It's good!
----------------------------------------------------

That is essentially Kira Anne's story. Apart from being a freckle-face with a bit of biscuit colour around the ears, she is a tall slim girl and she might do well to gain a bit of weight but I'm not sure that will happen. Her sire is long and lean so she seems to have inherited that. Her vaccines are up to date until next summer when she can receive the 3 year dose.

Kira has had her obedience training but she is an 18 month old and she needs to be reminded. She has a tendency to pull when she is on leash so her slip collar must be well placed under her jaw. If not, she thinks she should be allowed to run rather than walk! She does love to run in the acre pen. Right now she is testing the boundaries of what I will allow, like any self-respecting adolescent Pyr. She will, of course, do the same with anyone who she selects as hers.


Kira is a well-balanced, well-socialised girl who is happy with attention and play. She likes humans and is essentially a house dog. However, she will certainly evolve into a watchful home guardian and will have to learn that she is not the mistress of the house.

I expect that she will stick rather closely to a new family member after the changes that she has undergone and the rather abrupt exit from her former house, so she would need time to adjust.

She seems to leave the cats alone. Children would need to learn to respect her space and play gently with her as she has limited experience with them and she could very easily take them for siblings.

She seems to get on with other dogs but the introductions would have to be done properly on some neutral ground and the rules of behaviour well understood and enforced.