Great Pyr Rescue - Lancelot
by Marianne Glofcheski
(Quebec)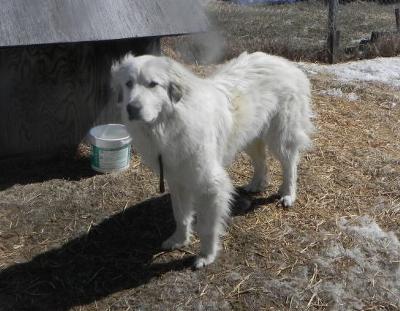 Great Pyr Rescue Lancelot
Lancelot

Lancelot has found his forever home.

Lancelot is a bit shy with men upon first meeting them, or if familiar men wear scary coats or hats. Well, normally that is true. However, this was not the case when Lancelot met his new Daddy. He went running with the other Pyrs to meet him, and was glued to him ever after this first meeting.

I had warned the potential adopter about this, but apparently I had forgotten the golden rule of dog rescue - sometimes it is the dogs who pick their owners, not the other way around. (It is also true that some dogs do need time to settle in and bond. So, I guess there are several golden rules!)

Lancelot, although a lone dog before coming back to Marianne, and then to the other Maryanne's house to be fostered, thrives on doggie love and playing. We are so thrilled that Lancelot - the ideal dog if ever there was one - will be going to a home with another rescue Pyr, and soon, with a child in the house, as he loves children. His new sister is about 3 years old, so he will have someone to wrestle and play tug of war with, as he has been exhausting Maryanne's older Pyrs.

We wish Lancelot and his new human and canine family the very best, and we will visit!

Congratulations to everyone. Love at first sight is a beautiful and heartening thing to witness first hand.

This was Lancelot's story.

Meet the gentle and handsome Lancelot, a 20 month old almost adult male. He is CKC registered and is up to date on his vaccines. (It might have some meaning for someone that he is one of Nouky's kids.)

Lancelot has come back to me because his human no longer has time for him.
He is a gentle soul and very well mannered in the house and with other dogs. He is fine with children and cats.

He knows his basic commands and usually walks well on a leash. However, once in awhile, he decides to investigate something different or to go in a different direction and then he pulls. Since he is very strong, he would need a refresher course to correct this. After all, he is only 20 months old and still a pup. I suspect that his owner did not have the time to consecrate to this last part of his training.

He is a fine companion and very loyal. Typically Pyr, he examines a person minutely before deciding if he wishes to make acquaintance or not. If his cursory smell-over brands the person as acceptable, he accepts to be petted. If not, he will walk away.

This is a wonderful boy for the lucky person he will take into his care.



---
Lancelot
Voici le beau et gentil Lancelot, un presqu?adulte de 20 mois.
Lancelot est enregistré auprès du CCC et est à date avec ses vaccins. (Peut-être que l?on reconnaitra que c?est un fils de Nouky?)
Lancelot m?est revenu parce que son humain n?a plus de temps pour s?en occuper. Il est très doux et gentil, se comportant correctement dans la maison et avec d?autres chiens. Il est bien avec des enfants et s?entend avec des chats.
.
Il connaît les commandes de base et marche bien sur laisse la plupart du temps. Toutefois, parfois il décide de vérifier quelque chose ou aller dans une direction différente et il tire à ce moment-là.
Il est très fort est il faudrait un cours pour lui rafraîchir la bonne conduite en laisse. Après tout, il n?a que 20 mois et encore un chiot parfois. Je soupçonne que c?est le temps pour cette dernière partie de son entraînement dont son humain manquait.de temps.
Il est un bon compagnon et très loyal, Typiquement Pyrénéen, il examine la personne très minutieusement avant de décider s?il veut en faire connaissance. Si son examen olfactif s?avère acceptable, il se permet d?être câliné. Si non, il lui tourne le dos et s?en va.
C?est un formidable chien pour la personne qu?il prendra sous ses soins!