Great Pyr Rescue - Martha
by Great Pyrenees Rescue Team
(Toronto area)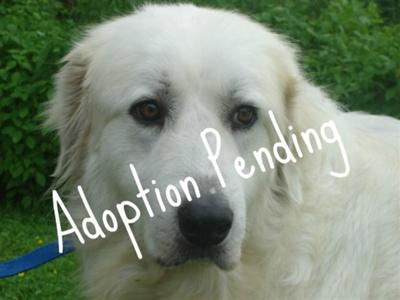 Great Pyrenees Rescue Martha
Martha
Female, spayed
Approximately 2-3yrs

Martha is a very sweet, affectionate girl. She walks well on a leash and is more than ready to walk whenever you want.

She doesn't seem to be bothered by anything, she even sleeps through fireworks and big storms. She enjoyed her bath very much and tends not to bark a lot.

She has been interacting well during her walks with other dogs, people and children. The only time she acted unusually was with rottweilers oddly enough.

She has exhibited some resource guarding behaviour with her food towards other dogs but not with humans.

Do you want to make this beautiful girl yours?

Contact:

Dr. Carol Graham
Home: (519) 853-3005 - please leave a message

Clinic: (519) 855-6439 - provide information to receptionist if Carol not available

Please phone only between 10 a.m. and 8 p.m.