Griswold - Courtesy Posting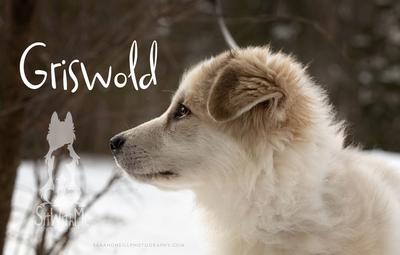 *Courtesy Posting for Sit With Me*

*ADOPTED*

Griswold
Great Pyrenees Mix
5 months old
Male


Dogs: Yes
Cats: Possibly, unknown but likely ok at this age when introduced properly
Kids: 6+ and dog savvy.
Housing type: Detached home
Fenced backyard: Griswold needs a country home. Fenced in area preferred, though consideration given.

Needs: Pyr/Livestock guardian dog experience preferred, experienced dog owner. Someone home more often as he will not tolerate being left full work days, 5 days a week.

Special: Griswold is being placed on a foster-to-adopt contract.

Griswold did not have a super healthy start in life. He came into our care via emergency at a local vet clinic with Parvovirus. We committed to trying to save him and he was in isolation for over a week. Thankfully he showed signs of improvement and eventually came into care.

Griswold went to a foster home who has taught him to walk on leash, sit, down and come (we are still working on STAY). He is crate-trained and house-trained. He's very inquisitive, as most puppies are, and loves to chew and play with his toys. He is socialized with other dogs, has completed 4 group puppy classes and should continue on with social and obedience classes. He is curious about people but can approach cautiously, depending on the person. Bringing him into controlled social situations will help him become more trusting. He is also boisterous at times, and so positive reinforcement training is critical in his upbringing and trust building, as he will get quite large. He is food motivated so this will help with the training.

Griswold has a double coat which should never be shaven and thus requires frequent grooming. If you don't want dog hair in your life, this pup is not for you. He has been brushed and nails clipped since arriving in our care and will need continued handling work as he grows.

He can get overexcited, bite or chew items he can have access to, like all puppies, but he is a much bigger pup than most. Don't let his good looks take advantage of you, this pup needs structure and clear guidance from the get-go to succeed.

True to his breed label, he may bark A LOT as he matures since this is what keeps deemed predators away, he will shed A LOT, he may be unsure of strangers, he will have instincts to roam and protect and must be contained safely with fencing of at least six feet. The Great Pyrenees is a large livestock guarding dog that can be independent, vocal and protective but should always allow guests into the home.

The Great Pyrenees is devoted to its family and are independent thinkers. Pyrs need to be socialized with children and people as puppies. Griswold has interacted with children who know how to behave around dogs(ages 5-10) and has done well but this has not been consistent in his life thus far, so this is an important part that needs to be continued. He will need much of your time and attention going forward, so be ready with ideas on how to support his needs before applying. If you are ready for a smart pup to join your home and meet the needs, you can apply online for him here: Griswold Apoption Application.

He is located in Ottawa, Ontario.