I lost my Superman
by Ed A from NJ
(New Jersey)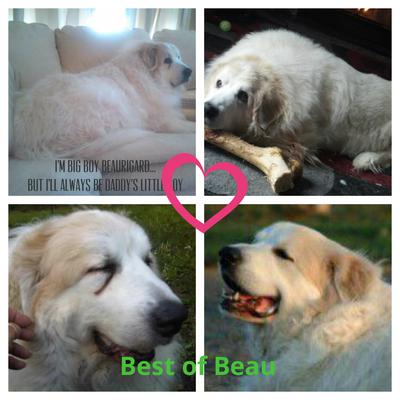 I have written about big beau (my service dog) a few times before on this site. Seven weeks ago we were at the vet and he had just had a little growth taken off his eye lid. The surgery went well and he came out of it just fine. They had taken him out to do his duty and called me to pick him up.

When we got there they took us back to get him and he was sitting nicely in the room as we spoke to the doctor. He turned to look at me and big beau collapsed on the floor and blood came out his anus. I got down on the floor and lifted his head calling his name the big man looked at me and with a final lick he left me.

They took him in the back and did an ultra sound where they found an undetected growth under his heart. The doctor said it was not visible because of the position it was in once it burst the blood showed up all around the heart.

They said it wasn't painful and very quick because of the rate the blood drained out of the burst.

So it was like talking asleep. I was totally devistated and for weeks I couldn't even say his name. My Butter cup refused to eat for two weeks and I was worried I would lose her too. It was only 3 days ago she started to bark again.

My wife and friends knowing I need another service dog tried to help by starting to look for a new dog but my heart wasn't in it. I know I need the help of a service dog and know I can never replace my soulmate.

I'm the last few weeks I have talked to rescues and breeders alike and have not found one who says there line is as large as my Beau is. I was hoping to get an older puppy or even a young adult and as of yet have had no luck.

I am starting to think maybe another Pyrenees would not be fair to the dog. I wonder if I would be constantly comparing him to my baby. The other thing one of my friends though was maybe a dog that is naturally bigger would be a good idea and thought maybe a Newfoundland.

The problem with that is Beau was a very serious dog and a natural guardian with impeccable since of who to watch.

I don't believe a Newfie shares these quality or if any other dog does ether. They have dragged me to see a Tibetan mastiff, English mastiff ( the breed I had before Beau), a great Dane, a few Pyrenees and on Monday the Newfie. Not one moved me.

I know I will never replace or forget my super dog. I love this breed so much and just don't know what to do. So this is my final good bye to my partner and best friend. RIP BIG BEAU,you will never know how much you are missed.