Jake (now Diamond Jake Einstein)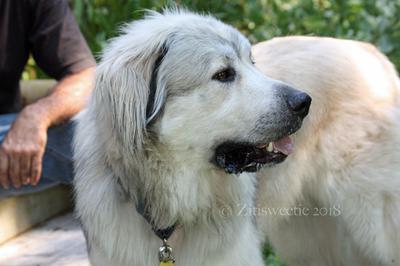 October 2, 2019 - Today, Jake's family had to say goodbye to him.

*ADOPTED*

It's final. This gentle giant grabbed his family's hearts.

They have two cats. One is cat savvy and the other is not. They have taken much time to have Jake get used to them. How he would love to chase the not-so-dog savvy cat but they did the slow and proper introductions. He's almost there and they are becoming friends. In fact, one cat makes a great pillow for his very big head.

He lives on 90 acres in an old refurbished and beautiful renovated farm house. They built him a gorgeous crate since he is still very much a puppy who finds things on which to chew when you are not there.

They have discovered what a diamond-in-the-rough he is, and have renamed him to a very dignified name of Diamond Jake Einstein. That sums up this big sweetie. His true character is bursting through.

He ended up in a shelter and adopted out once but came back because these dogs are not for most people.

*ADOPTING PENDING*

Best guess: Pyr/Leonberger mix
Companion dog
Children: Over 16 due to his size - guess of 95 pounds
Cats: Probably be fine but proper introductions and a dog-savvy cat
Other Dogs: So far, so good. A female dog in the house is preferred, and one who can hold their own for play.
Crate-trained: Yes
House-trained: Yes
Age: Two-ish
Big dog experience is required.


Jake was picked up as a stray 8 months ago. The shelter asked us to bring him in.

This big goofy sweetie is a charm. Yes, he's solid and doesn't know the power of his size when he barrels towards you or steps on your foot. Some will be unsure of his deep bark but his bark is just loud. We are working on having him stay in place when people come in the door. This all takes time.

He has a bark when he isn't sure of a noise which is different from his deep loud bark when he hears a noise outside or sees a squirrel or rabbit.

He quickly learned how to walk properly on a leash. That said, he is like a freight train if he sees a squirrel or rabbit. At present, until he learns not to do that, he is walked with a leash on his gentle leader and a leash on his collar. The nudge on the gentle leader is only used when he wants to go for it.

His extra large crate keeps him safe when we aren't there to watch him. The main reason he is crated is because he hasn't learned to settle outside of the crate, and will get himself into trouble between counter-surfing and eating things he shouldn't. He's quite happy there since he can relax and feel safe. He gets limited time outside because after playtime and ripping around, he goes over the top. We try to send him to his crate, in a happy way, before he gets to that point. With time, training and exposure to being outside of the crate under supervision, he won't need it.

He's not keen on grooming and nail trimming but we're working on it. We do a little each day.

With patience, time and consistent positive reinforcement training, he will shine with the right family.

He's very happy and the biggest sweetest boy. He can only put a smile on your face when he comes barrelling towards you when you call him.

Jake is looking for an big breed experienced family who will take him on their walking and hiking trips and make him a part of their family. He needs a family willing to work with with him using positive-reinforcement methods only and ready to bring in a positive-reinforcement trainer if they need some help. This ongoing training is necessary (for all dogs) and creates a good bond with his family.

They are beautiful dogs with great temperaments given the right breeding, socialization, care including diet and training. Dogs are a lifelong commitment.

BARKING: They bark more than most dogs and neighbours do complain. That is a common reason for people surrendering their Pyrs (they didn't do their research). Their bark is what deters predators and it is instinct to them. That and marking their territory. To take away their bark is to take away who they are. The barking can be managed but it takes time, patience and consistency with positive-reinforcement training. If you don't like barking, they are not the dog for you.

CONTAINMENT: Pyrs love to hang out outside and their instinct is to wander. Therefore, they require at least a 6-foot secure fence in a large yard in which they can play, run and watch over. Some have been know to scale any height of fencing. No tie outs for these guys. It can lead to aggression since they cannot fully watch over their territory. If they are out all day, as they usually prefer when the family is home, they need shelter from the elements. And, no electric collars or invisible fencing.

DIGGING: They dig holes in your garden to stay cool in summer so you'll want to set aside some garden for them.

DIET: Raw is the species-appropriate diet. They eat 2%-3% of the ideal body weight. The breakdown is about 50% edible bone, 35% muscle meat and 5-10% organ meat of beef, chicken, rabbit, deer etc. Do not feed what they are guarding. Start them out on one protein until they are used to it and gradually add another. If you need to feed kibble, ensure it is of high quality and preferably the baked kind. Raw food primer.

DOGS: If you want more than one dog in the home or working, we always recommend two dogs of the opposite sex. Two males or two females do not always see eye-to-eye and fights will ensue in most cases, but not all.

EXERCISE: They require regular walks, of course, so they get out and see the world to keep them interested in life. They must be leashed because they will wander. Again, they have been specifically bred to wander with sheep as they watch over them.

GROOMING: Working and companion dogs must be groomed. They require a good weekly grooming to keep them mat free and their skin healthy (hence, pain free from the pulling of mats as they move), and cutting their nails including their dew claws every couple of weeks to a month. NEVER have their dew claws removed. This is a barbaric practice. Simply keep the dews trimmed.

They molt twice a year and shed all year round so your vacuum stays full. NEVER shave a Pyr. Their coats keep them cool in summer–they lose their undercoat, leaving just guard hairs–the guard hairs protect your dog from sunburn and insulate him against heat, as well as allowing air to circulate to keep the skin cool–and warm in winter–their undercoat grows close to the skin to keep your dog warm and dry. This system only works if you groom your dog regularly. If you don't like grooming, take your dog to a master groomer. If you don't want to, this isn't the dog for you.

MICROCHIP: Make sure to chip your dog at the local shelter or at your vet so that if he accidentally wanders off, you will be found. Also, ensure he has proper ID on his collar.

NEUTER/SPAY: Make sure to neuter/spay your dog at the appropriate age which can be between one to two years old. Until that time, be responsible and do not allow any breedings. Leave breeding to the experts. Shelters are already full of unwanted dogs. Our dogs are neutered and spayed when they come into our care.

TRAINING: They require socialization and handling by many many people as pups by the breeder to be continued by their new people. They also require positive-reinforcement training. Pyrs, nor any dogs, take kindly to any kind of punishment.

It's important to work with dogs as if in a dance and you are leading. Rewards for good behaviour and redirect for unwanted behaviour. It's up to you to make them a good canine citizen. When engaging a trainer, ensure they use positive-reinforcement training to show you how to manage your dog. If you are not ready to train a dog, this is not the dog for you.

To train a Pyr is not like training some other breeds. They are not eager-to-please and just as soon walk away from you than do as you say. They were bred by man to be used as guardian livestock dogs because they do not require human intervention to tell them how to do their job. Lots of patience, consistency and time is required to work with them. If you want an obedient dog, this is not the dog for you.

TRAINING FOR LIVESTOCK: There are a few who just want to be a companion dog. Most are natural guardian dogs of livestock. Yes, it is instinct. However, you must introduce your dog to any livestock slowly. This means leashing your dog to you as you work about the animals and barns so they get used to them. When you are not there, keep them safely away from the animals yet still in sight of them. Fowl can be difficult for dogs because of how they move but it can be done. It will take at least a month for a Pyr to get used to the animals, maybe less. You'll know when they are ready, and the dog will take it from there. Note that a dog is not ready to be a guardian on his own until 1.5 years to 2 years old.

WHY ARE THEY SURRENDERED: There are those in need of a home because someone didn't realize they would get so big, bark so much, leave so much hair in the house, wander, and require work.

It is very important to do your research on any breed before deciding if they are a good match for your family. Please start here:

The Great Pyrenees.

Regarding dogs and children. We never want to see these dogs fail so it's important that children learn how to behave with dogs and that parents never leave their children alone with a dog. Here is a link on that subject:

Children and Dogs.