Jasper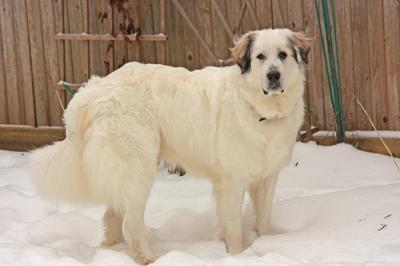 Great Pyr Rescue - Jasper
Sadly, Jasper who was one of our rescued Pyrs, has gone to the Rainbow Bridge. This was his story...

Judging by how he reacts to having to go in the crate, he was probably forced to go in the crate since he hides under the table when the time comes. Nothing bits of cheese or good treats thrown into the back of the crate won't tempt him with. Once, he actually went in there before I even put the treats in. I also will put a frozen Kong of goodies in there for him to pass the time.

He needs to be crated when you are not home (extra-large crate). He seems to feel safe in there and will settle down after five minutes. He'll howl in that first five minutes. He used to live with a Husky.

He loves to play with other dogs, loves his walks and loves to play with his toys, especially balls. He needs a family ready to spend time with him, walk him and throw a ball for him since he has lots of goofy energy. He will even pick up sticks on his walks and carry them for quiet a distance. This is more of a Retriever/Lab characteristic but, believe me, he's all Pyr. He does not have double dew claws since his previous people had them, sadly, removed.

He came in with very itchy skin to the point of having a bleeding face from scratching. He was also peeing in the house so right to the vet we went just to make sure nothing else was going on. He came up clean. He is on some drugs to ease the itching and I put him directly onto raw food. He should be okay in another couple of months once the effects of the kibble have fully left his system.

He is a very bad surfer. I don't believe he was allowed to be free in the house and spent much time in a crate and, therefore, never learned proper house manners. It's a slow process but we are being trained to not leave anything that has the remote scent of food on it on the counters or tables. We'll find him happily with his feet on the table or counters having a good sniff. We bang pots or have to resort to loud voices to have him get down. He'll get it eventually.

He loves the couches and finds those very comfortable.

He likes to be with his people. He is good in the car. He's good in the house other than the counter surfing. He is smart and, of course, a typical Pyr who does everything on his own Pyr time. He's finally getting the 'out of the kitchen' when we are cooking. There isn't enough space on the counter for his nose, too. He is finally learning he has to lie down when we are eating. He usually parks himself under the table, of course. He never knows what might land there.

Of course, a dog who hasn't had much exposure or socialization, comes with a downside but it is one that is very workable. When people (strangers) come into the house, he must be kept on leash. The visitor must ignore him and not put their hands out. Jasper must be allowed to go to them and not the other way around. He will sniff them all over. Visitor will continue to ignore him and carry on a conversation with you like Jasper isn't there. Invite visitor in when the sniffing is done. Jasper will warm up pretty quickly. He'll lean into whomever it is. The visitor should also give him cookies once the sniffing is over if that is desired.

When walking him, it is important to pay attention to Jasper when going by people on the streets. Let him look but then keep moving. Keep the leash up short because he has been known to leap at people. It's not out of aggression but rather the unknown for him. His previous owner just let him do this and said Jasper was being protective of him. This is incorrect. Pyrs are not aggressive by nature. Proper socialization cannot be stressed enough. If people are willing to stop and talk to you, tell them 'no hands' and 'ignore him' and continue conversation with you, you'll find he will be just fine with that person. He simply needs more exposure.

We finally saw him have to defend himself now that he has settled in. He picked up the stick he had brought home and Zeetie caught wind of this. What's his is hers. She went at him so he, naturally, defended himself. Fight was broken up, toys taken away, and they were friends, again.

Jasper is such a clown. A clown you'll absolutely adore. He has a big bark, a bigger heart and mischievous glint in his eye. He is, indeed, a 115 pound puppy.

If you are not sure how to work with such a dog, I highly recommend bringing in a positive-reinforcement trainer to show you what to do. Showing a dog good behaviour does not happen overnight. It takes time, patience and consistency. The bigger bonus is that you will create a strong bond of ever-so important trust between you and Jasper. It's important to continue his socialization.

We have very good information on our website which we encourage you to take the time to read. Please do your research on this breed to ensure this is the dog for you.

As a Pyr he does bark. This is one of the tools that allows them to do their job to warn off predators. They dig holes in your garden to stay cool in the summer, and shed at least twice a year and will leave white dust bunnies throughout the year. They will wander since this is instinctive to them as they are used to wander with the livestock for which they care.

They must be contained within a large fenced-in area of a minimum of six-foot secure fencing in which they can run, play and look after their property. Tie-outs are not suitable since this does not allow them to properly patrol their territory. They have been known to go through electric fencing so this is also not acceptable containment.

Pyrs need patience and consistency in their training and someone who will work with their instincts. They are independent thinkers and, therefore, only listen if it's worth their while. Treat them as partners in a dance where you lead the way.