Lena - Courtesy Posting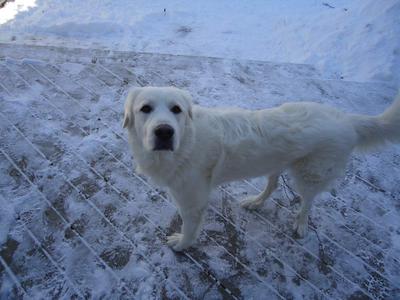 We have great news - we found a family for Lena! We received a call from a family. They had done a lot of research on the breed after meeting a Great Pyr at the farm where they board their horse. They live in Damascus and have lots of property for Lena to roam. They are experienced with large dogs and understand that Lena will be a lot of work around any other dogs. They have been extremely sensitive with us during this difficult process and are going to keep us informed on her progress and they have welcomed us to come visit anytime.

This has been a tough decision for Lena's people to make but it is the right one for Lena. Lena needs a quiet setting where walks amongst strange dogs are not required. A good play in the backyard and quiet country walks would be ideal.

From Lena's people:

We have a Great Pyr named Lena who is 4 years old. We rescued her when she was one-year-old from a backyard where she was tied up with a Husky. They were chained up and malnourished. Lena was pregnant when the rescue team found her and they had to abort her puppies due to her health. She is a very sweet girl to all people she meets but has a hard time meeting new dogs.

Good with adults? children? Yes. She is a love bug with all humans. She hasn't had extensive exposure with children but she is very gentle.

Good on the leash? No. She is extremely difficult when walking. We have a harness and a gentle leader we use on her and she still can be very difficult when she sees other dogs.

She does not bite, but barks and pulls when she sees other dogs. We do have another dog (Sheppard-Lab mix) with whom Lena is extremely friendly, gentle and patient.

Training will help with this. If she pulls, she doesn't get to go forward. When she doesn't pull, she gets a 'good girl' and gets to go forward...this won't work when she gets anxious around other dogs.

Separation anxiety? No.

Crate-trained? Yes, but she hasn't used her crate over the past few months as she is great being left out of the house. Not destructive.

Is she good with cats? Unsure. She's never met a cat. [As a Pyr, with proper introductions, she should be fine with another dog–this may take time so she can get to know the other dog, cats and other domestic animals if they are hers.

House-trained? Yes.

Good in the house? Yes.

Good in the car? Yes, although she likes to bark at other dogs from the car. But she is very calm and a great passenger.

Good with the vet? Good with the vet, although we take her for her appointments when there will not be any run-ins with other dogs.

In addition to the above, Lena was rescued from the Ottawa area but now lives in Mississauga, ON. She is a true love bug and very gentle with everyone she meets. She gets very excited at first and wants to jump but we've been working on this. She is great with adults and kids.

We do not want to part with her but feel she would be much more comfortable in a rural setting away from the hustle and bustle of the city where she can enjoy more room to roam.

If you think you are a good match for Lena, please contact Katy at 905-601-5026.
Return to Post A Happy Tail 2015.
---
---