Lexi (Snowball)
by Maryanne Pearce
(Toronto area)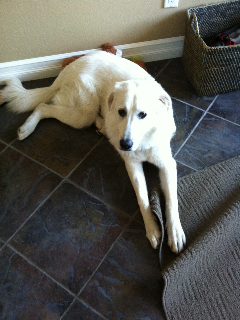 Great Pyrenees Rescue Lexi
Lovely Lexi passed away from cancer on June 11, 2022. Our heartfelt condolences go to her heartbroken family.

Here History:

Lexi has found her forever home. We extend a big THANK YOU to her new family. Lexi is a BWD (big white dog). We are not 100% sure if she is Pyr or a mix. However, she was in trouble and the Rescue Team stepped in to help. She has now been spayed.

Lexi is around 6-7 months old. When she first went into foster care, she was quite nervous but is now much more open, confident and outgoing. She is very responsive to affection and quite well behaved for a puppy, says her foster dad. The only chewing she has done was on an old cardboard box she took a liking to! She also seems to have a fondness for re-arranging the shoes in the home, but not actually chewing them.

Lexi is house-trained and will whine near the exit to alert you to her need to go out. Initially, she would get over-excited when she met a new person and have a wee accident, but that has not continued after she settled into her new foster home.

She is learning to walk on a leash, likely never having been walked before. She still has her puppy coat, and we cannot be certain what she will look like after she passes the year mark, due to the fact she may be a mix. Although she did not bark much when she came into care, she now has a strong, confident bark as a Pyr does.

Lexi came to us after receiving a call that she was living on a balcony in an apartment building, as her owner had 5 children and not enough room for this big girl. She is great with children and cats, and is generally a big sweetheart. Lexi would be a fantastic addition to any family. Would you like to start the New Year by giving Lexi a new life?