Luna (formerly Kendall)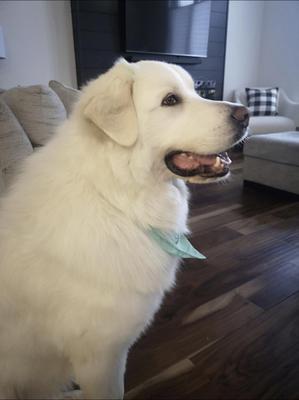 *ADOPTED*

Congratulations to Luna and her family!

DOB: 04. January 2018

Kendall came to us after she was left to other family members after her owner died. The new family just didn't have the time for her.

She worked her way into her new family's hearts with the help of our trainer.

From her new family:

Meet Luna!

We've always wanted a dog, so we were excited to meet her.

Bringing Luna home was a huge adjustment for us, and for her as well.

She loves to lie in the entrance of our house to watch over the doors. She likes being outside most of the day, and enjoys playing in the snow. She also loves digging holes in the garden and lying in them.

She loves drives in the car, being brushed and short walks (she gets hot and tired if she's out too long.

She's good on her walks, but is reactive to bikers and runners. We are working with her on this.

Luna loves cuddling and is always giving you her paw to hold. She is a quick learner, and is getting really good at all of her training.

She used to bark a lot at the neighbours, but has warmed up to them all now. She loves seeing family and friends, and playing with other dogs (big and small!)

Luna has changed our lives and we're so happy we've found her. She loves unconditionally. We can't wait to experience more firsts with her, and to give her the best life she deserves.
Return to Post A Happy Tail 2021.
---
---