Maisie - An Update from Her Foster Parents - July 2012
by Great Pyrenees Rescue Team
(Ottawa Area)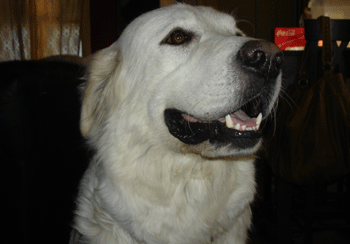 Great Pyrenees Rescue Maisie
We are Maisie's foster parents and have had this lovely lady for about 4 months. Maisie is truly a wonderful dog. She gets along very well with our two older male dogs and enjoys running and playing with them in the yard... however, I think she wishes they were a little younger and a lot faster!!

She is a gentle dog who is getting to know how to be in a house again. She is completely house trained and loves to hang out with us and relax at night. She has chewed a sandal, but does not seem to be very interested in chewing things while we are gone to work. She has a very gentle disposition, but sometimes forgets how big she is!

Maisie has shown a lot of interest and curiosity with our two older cats, but it's only that... curiosity. She will follow them around and sniff, but is quickly put into her place with a little hiss. Maisie is a young girl with a lot of energy and loves to run around the yard with her favourite toys... usually a tree branch or a log!

Maisie is a majestic dog that deserves nothing but the best family home. That being said, we are more than happy to have her in our home until we find the perfect family for our Miss Maisie!