Mégane has found her forever home.
by Milena Dimetrijevic
(Montréal )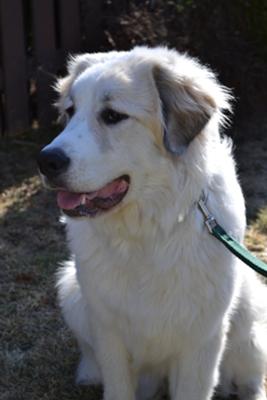 Happy, happy
Lucky Mégane had a forever new home waiting for her even before she was surrendered to the GPCSO rescue group.

Mégane is a lovely and playful 7 month old girl. She was surrendered because the original owner's little boy developed severe allergies and asthma. Their doctor recommended they find the dog a new home. After much hesitation, they accepted to surrender her to us, not without much sadness.

A few days after she came into foster, she went to visit her new adoptive family. They were looking for a companion to their own Pyr, Sammy, and wanted to make sure they would get along before "officially" saying yes. So we went to the dog park and we let them get acquainted. Both humans and dog fell in LOVE… she's such an easy going sweetie. She will join them over the weekend to become an assistance dog and a playmate for Sammy.




Mégane a trouvée son foyer permanent.

La chanceuse petite Mégane avait déjà un foyer permanent qui l'attentait avant même qu'elle ne soit remise au groupe de sauvetage GPCSO.

Mégane est une belle fille de 7 mois très enjouée. Elle a été remise parce que le petit garçon avait développé des allergies et de l'asthme. Leur médecin a donc recommandé de trouver une nouvelle maison au chien. C'est avec beaucoup de tristesse et bien des hésitations qu'ils ont fini par accepter de nous la céder.

Après quelques jours en famille d'accueil, elle est allée rendre visite à sa nouvelle famille adoptive. Elles cherchaient un compagnon pour leur propre Pyr, Sammy, et voulaient s'assurer qu'ils s'entendraient bien avant « d'officialiser » l'adoption. Donc nous sommes allés au parc à chiens et nous les avons laissé faire connaissance. Les humains et le chien sont tombé en AMOUR ... elle est si fine et facile à vivre. Elle ira les rejoindre dans une semaine pour devenir chien d'assistance et camarade de jeu pour Sammy.

Return to Post A Happy Tail 2011.
---
---