Molly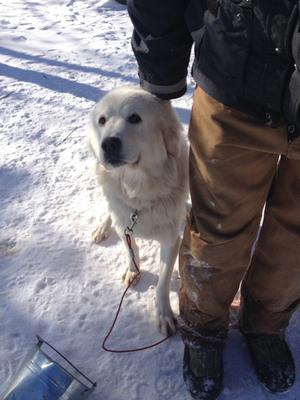 We are delighted that Molly has found her forever home. Here is what her new family has to say...


I WOULD LIKE TO ANNOUNCE THAT MOLLY IS OFFICIALLY A FOISY!

Adoption has been finalized and she is here to stay.

We are so happy with her. She is such a beautiful girl and we can't get and give enough love to her.

Thank you for putting us in contact with her.

I have had contact with her good samaritan and she has opened our eyes to Molly's unfortunate past. Her future with us will so much better then her past. I can't imagine the stories you hear all the time.

She can't wait for us to get under the sheets so she can squeeze between us and fall asleep. She enjoyed her first "bull wrinkle" it stunk but she loved it so much. She finally ventured downstairs after two weeks in the house to watch a movie with us. She climbed up on the couch and passed out.

This dog loves to snuggle and sleep. She is glued to us and follows me whenever I change rooms! Brad calls her my shadow.

She is putting on weight and her coat is growing in so soft and puppy-like.

Garrett and Molly now follow each other in and out of the backyard. Sometimes I think it's a game. Molly's puppy side shows up when she gets outside and she burns laps around Garrett.

This was Molly's story...

Molly is a 16-month old Pyr-mix.

Molly's mother died after being hit by a car when Molly was only 4-weeks old. As a result, she never learned how to guard sheep so her owner was going to dump her.

A good samaritan stepped in and encouraged the farmer to give her up. She was being contained by electric fencing (we don't allow our dogs to go to homes with electric/invisible fencing) but chewed through that and ended up being tied to a tree. The good samaritan fed her good quality food to try to put weight on her. This was difficult as she had already had a litter of 13 pups, at such a young age, by a local dog (this is the reason we recommend you spay/neuter your dogs).

Luckily, she turned out to be a sweet unaggressive dog. Unfortunately, this isn't always the case when dogs lose their moms at such an early age. She is good with kids and cats.

As a Pyr she does bark. This is one of the tools that allows them to do their job to warn off predators. They dig holes in your garden to stay cool in the summer, and shed at least twice a year and will leave white dust bunnies throughout the year. They will wander since this is instinctive to them as they are used to wander with the livestock they guard.

We recommend containment within a fenced-in area with a minimum of six-foot secure fencing in which they can play and watch over their territory. Tie-outs are not suitable since this does not allow them to properly patrol their territory. They have been known to go through electric/invisible fencing and this only makes them fearful once they are shocked.

Pyrs needs patience and consistency in their training and someone who will work with their instincts. They are independent thinkers and, therefore, only listen if it's worth their while. Treat them as partners in a dance where you lead the way.

There is a minimum adoption donation of $350 which helps cover the costs for veterinarian care, and anything else the dog requires.

If you think your family is a good match for Molly, please contact Dr. Carol Graham at (519) 855-6439 or (519) 853-3005 between 10:00 a.m. and 8:00 p.m. Please leave a message and Dr. Graham will return your call.

If you are interested in Molly, please fill out the adoption application which can be found in the Rescue and Adoption section of our website.
Return to Post A Happy Tail 2015.
---
---