Monty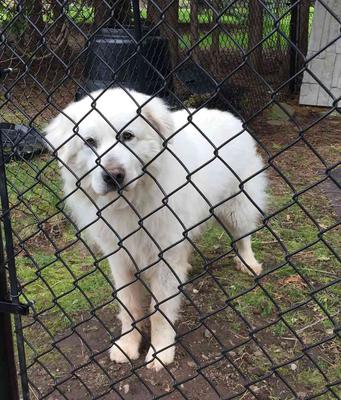 We are devastated to announce that Monty passed away due to gastric torsion (a condition in which the stomach becomes overstretched and rotated by excessive gas content). Everything was done to save him but it wasn't to be. Our condolences go out to his foster and his new-family-to-be.

His story:

His endurance has now been built up with regular walks by his fosters and he is doing great. So, a family who is prepared to take him on regular walks is a must! He still has the energy to go after squirrels.


Monty is nine years old. He was supposed to be a working dog but he prefers the company and affection of his people.


He barks a little but we think he was debarked since it's very hoarse and not loud.


He is a very handsome boy who is very sociable, and would love to have a quiet family and a fenced backyard where he can hang out and enjoy the outdoors by day after his walks.


He is fine with cats since Pyrs are good with domestic pets. He is fine with other dogs as long as they are neutered/spayed. It is preferable to have the opposite sex of dog in the home.


He does have degenerative myelopathy (progressive disease of the spinal cord). He'll need a home with rugs or carpets so it's easier for him to get around.

He needs help getting into vehicles. A home with a few stairs is fine.
Will you give this boy the home he deserves?


Know that Pyrs bark more than other dogs. This can be managed if you have the patience, time and consistency to work with them.

It is very important to do your research on any breed before deciding if they are a good match for your family. Please start here:

Great Pyrenees Club of Southern Ontario

We never want to see these dogs fail so it's important that children learn how to behave with dogs and that parents never leave their children alone with a dog. Here is a link on that subject:

Best Dogs for Children



Here are their characteristics in brief:

They are beautiful dogs with great temperaments given the right breeding, socialization, care including diet and training.

Both working dogs and companion dogs require a good weekly grooming to keep them mat free and their skin healthy (hence, pain free from the pulling of mats as they move), and cutting their nails including their dew claws every couple of weeks to a month. NEVER have their dew claws removed. This is a barbaric practice. Simply keep the dews trimmed.

They molt twice a year and all year round so your vacuum stays full. NEVER shave a Pyr. Their double coats keep them cool in summer and warm in winter. If you don't like grooming, take your dog to a master groomer. If you don't want to, this isn't the dog for you.

Their instinct it to wander. Therefore, they require at least a 5-foot secure fence in a large yard in which they can play, run and watch over. Some have been know to scale any height of fencing. No tie outs for these guys. It can lead to aggression since they cannot fully watch over their territory. If they are out all day, as they usually prefer, they need shelter from the elements. And, no electric collars.

They bark more than most dogs and neighbours do complain. That is a common reason for people surrendering their Pyrs (they didn't do their research). Their bark is what deters predators and it is instinct to them. That and marking their territory. To take away their bark is to take away who they are. The barking can be managed but it takes time, patience and consistency with positive-reinforcement training. If you don't like barking, they are not the dog for you.

They dig holes in your garden to stay cool in summer.

They require a lot of socialization as pups onward with people and other dogs. They also require positive-reinforcement training (a trainer who shows you how to work with a clicker). Pyrs, nor any dogs, take kindly to any kind of punishment. It will lead to aggression. Always use positive-reinforcement training.

It's important to work with the dogs as if in a dance and you are leading. Rewards for good behaviour and redirect for unwanted behaviour. It's up to you to make them a good canine citizen. When engaging a trainer, ensure they use positive-reinforcement training to show you how to manage your dog. Never send a dog away for training. You are the one working with the dog, not a trainer. If you are not ready to train a dog, this is not the dog for you.

To train a Pyr is not like training some other dogs. They are not eager-to-please and just as soon walk away from you than do as you say. They were bred by man to be used as guardian livestock dogs because they do not require human intervention to tell them how to do their job. Lots of patience, consistency and time is required to work with them. If you want an obedient dog, this is not the dog for you.

They require regular walks, of course, so they get out and see the world. They must be leashed because they will wander. Again, they have been specifically bred to wander with sheep as they watch over them. It's suggested to use a front lead harness which will cut down on any damage to the spine should the dog pull although, with a little work from puppyhood, they should be good on a leash.

There are those in need of a home because someone didn't realize they would get so big, bark so much, leave so much hair in the house, wander, and require work amongst other reasons.

You need to be ready for a lifelong companion to be a part of your family and are able to manage any unforeseen vet emergencies.

There is a minimum adoption donation of $350 that helps cover the medical costs of dogs in our care.