MouMou
by Marianne G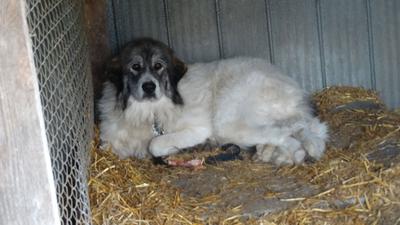 Mou-Mou was posted on Kijiji as a goat guardian who lost her herd because of downsizing. She was a "free to good home" lady. A wonderful Samaritan saw the post and alerted one of our Ottawa volunteers.

Since she was a 4-year old outside and barn dog, she couldn't go to a regular foster home so she came to me into an outside kennel and slept on a thick bed of straw. She was terribly dirty, hadn't been brushed out for at least two seasons and smelled to high heaven. I spent several days just cutting away the filth accumulated in the pantaloon and tail. The tail was dread-locked and the pantaloon was full of stools that had caught up in the mats, the source of the stench.

She was a bit on the thin side and I managed to put a couple of pounds on her with a raw food diet and dry food at will, although, like most Pyrs, she stopped when she had had enough, and I would find some dry nuggets left in her bowl in the morning.

She is an really well-tempered lady and apart from pulling on a leash (understandable as she had been an independent working spirit all her life) she would sit, stop, and come as i asked her to. Yes, she actually came and asked to play!

For an outside dog who had been more or less neglected and hadn't been greatly socialised, she was a sweet lady who didn't mind a hug from time to time.

Once I saw what was possible with this girl, she went to one of my neighbours, a groomer, who gave her a bath and a good brushing, a winter sanitary cut and just overall spa treatment. Mou-Mou was happy, happy, happy!

A girl who seemed not to have seen a dog tub in her life calmly (but of course with the usual Pyr long-suffering expression) stood for the ministrations of clean-up aging her tail and letting herself be frothed, pulled, brushed and generally handled. When i got her back home, I micro-chipped her and again, no protestation whatsoever.

The next step was the vet. She had her first vaccines ever, her ears cleaned and her claws and dew claws clipped. Not a peep!

I had been contacted a month or so earlier by someone looking for a guardian for their sheep, a family with young children just like where Mou-Mou came from. Perhaps they were a good match?

Discussion, application for adoption, visit from the lady, a second visit with the whole family.... yes, Mou-Mou seemed ready to take them on. The next step was an introduction to the farm, as usual, on a temporary basis to see if she would also take on the sheep. Three weeks later, she has taken on the guardianship of the sheep, the horses and the barn cats.