Our Levee - Great Pyrenees or Pyrenees Mix
by Wendy Combest
(Scott, Louisiana)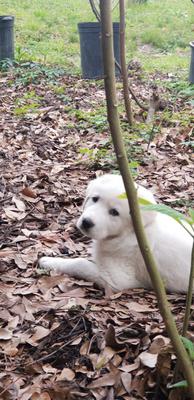 Is our dog a Great Pyrenees? If mixed, what breed would you think she is mixed with?

She is such a sweet little girl with a stubborn streak.
Please help us figure this out. She has the double dew claws but seems to have a different coat than other pyrenees I've seen. She was given to us at 6 weeks and just made a year. I wouldn't trade her for the world as she is now family.
Join in and write your own page! It's easy to do. How? Simply click here to return to Great Pyrenees Questions.
---
---