Ramona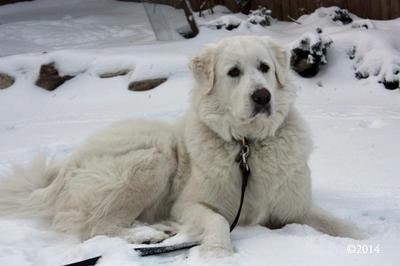 Great Pyr Rescue - Ramona
It's official! Big sweet Ramona has been adopted. She has acres of land to watch over and a family who adores her. This was her story...

Ramona is a big girl at about 130 lbs. She could use a bit of an exercise regime.

She may need to be in a dog-free home. However, with the proper introductions and given time, it may work out with another dog in the home. We aren't sure about cats but with proper introductions, again, she may be okay.

Has dog shown aggression towards adults?

As is typical Pyr behaviour, she barks and rumbles when strangers come to the door. Once the stranger is accepted by whichever human family member is there Ramona is fine.

Has dog shown aggression towards children?

Yes. Ramona is two-years old. She has grown up around babies. She comes from a family who has a home daycare and babies, toddlers, preschoolers and young children have played with Ramona most days of her life.

One day, a toddler stomped on Ramona's paw and she yelped. The next time the toddler approached her, she lunged at the toddler. She did not hurt her or touch her but it scared her family. They think because her paw was stomped on, that is why she reacted how she did. The family feels they cannot take any chances. They are heart-broken.

She was then put into a foster-to-adopt in a family with young children. She lunged at the child when he approached her. No contact was made.

It's important to teach children to respect animals and to treat them gently.

Has dog shown aggression towards other animals?

In Ramona's first 16 months she was bitten pretty roughly by other dogs when she would approach for play. She still plays with other dogs but if she senses any aggression from another dog, she immediately becomes reactive. It's important to be aware of interactions between dogs in the park and take her away before anything starts.

Tell us about the dog's personality, quirks, history and concerns.

Ramona is exceptionally affectionate. She will hop up onto the couch with her family, try sitting on their laps and look them right in their eyes before licking and snuggling for as long as they allow her to.

She is a great guard dog, barking at every little noise and has actually alerted her family to thieves trying to break into their vehicles on two separate occasions.

She loves to jump when playing. Her favourite game being for them to throw a toy just over her head so that she can spring up to snatch it from the air. On walks she is funny. She always starts the session full of energy and even on relatively short walks she begins to drag her butt when she realizes that they've begun to head home. She loves her walks.

She does this funny thing sometimes when she is relaxed. She'll lay on her back looking up at the ceiling and then she will take both of her front paws and will put them on each side of her jowls. From here she starts to push her paws up at the ceiling always returning them to the sides of her face. She'll repeat this for two or three minutes. It's like she sees something that the rest of her family doesn't!

They know that in the right home, with loving owners, she will be a companion who will bring great happiness.

We have very good information on our website which we encourage you to take the time to read. Please do your research on this breed to ensure this is the dog for you.

As a Pyr, she does bark. This is one of the tools that allows them to do their job to warn off predators. They dig holes in your garden to stay cool in the summer, and shed at least twice a year and will leave white dust bunnies throughout the year. They will wander since this is instinctive to them as they are used to wander with the livestock over which they watch.

They must be contained within a fenced-in secure and large enough area of a minimum of six-feet in which they can play and guard their territory. Tie-outs are not suitable since this does not allow them to properly patrol their territory. They have been known to go through invisible/electric fencing. Being sensitive dogs, this can give make them fearful to go outside.

Pyrs needs patience and consistency in their training and someone who will work with their instincts. They are independent thinkers and, therefore, only listen if it's worth their while. Treat them as partners in a dance where you lead the way. It's important to have a trainer come in or take obedience classes in order to bond with your dog.

If you think you're family is a good match for Ramona, please contact Donna Harris at:

Home (evenings / weekends): (613) 224-6501 - please leave a message.

Please phone only between 5:00 p.m. and 6:30 p.m.