Riley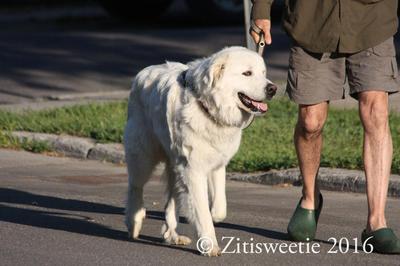 Riley has gone to a home where he gets to be a guardian livestock dog. He fit right into his role as he walked through his 100 chickens the first time with his head lowered as a guardian dog should.

He also has 3 cows, 3 heifers, a bull, a steer, two rabbits and seven cats. Life doesn't get much better than that.

He will be working along with Bobby and Daisy as his mentors. Bobby and Daisy were adopted from us years ago. Daisy is now of the age where she is slowing down and Riley is taking over her role.

He has turned out to be a natural fit in his role as guardian. We are so happy for this boy and his family!

This is his story:

Riley will only go to a Pyr-experienced family with no children under 15, and who knows that Riley will not be the perfect dog when he goes into their home. It's about him gaining your trust and respect and and you gaining his.

Riley may also be candidate as a working dog.

When you first bring him in, his world has already been turned upside down. He may attempt to pee on your furniture, rip up things he deems rippable and even chew things you leave around. That's what pups do when you leave them unattended.

And, as a Pyr, he does bark.

You need to watch a new dog until you know his reaction to different things. It's highly recommended taking a week off work to hang out with this boy. Don't allow him out of your sight. Keep him leashed at all times in the house until he gets to know you and you him.

He is a one-year old full Pyr. He is tall and gangly and will fill in nicely in time.

He's looking for his forever home. He appears to have been well-raised, well-socialized and lived with cats. He wants to play with other dogs he sees but I suspect there are those he may not get along with, like many dogs.

He is good on leash. He doesn't react to people walking or cycling by. No reaction to cars. He seems fine with children.

He is a puppy so it is recommended he be crated when you aren't home or at night. He seems to like the safe feeling of a closed space brings. His former people said he has not been crate-trained but I don't think it will take much to crate-train him. He needs someone who will take the time to do that with patience and consistency.

Know that he is an absolute doll and just wants to be a part of the family. He needs an active family with whom he gets plenty of walks and hikes in the park and some playtime with other dogs.

When someone does come to the door, he will go into full flight barking as Pyrs do. Keep him leashed until you know his reaction to people coming to the door.

Never have two Pyrs of the same sex in a home. Not in all cases, but in many, dog fights will break out and it won't be nice. You cannot force them to like each other. They may be fine as pups but as the develop, they will not see eye-to-eye. We always recommend a male and female if you want two.

Never get siblings or even two pups at the same time. Here is an excerpt from the Whole Dog Journal (read the whole article)

Most training professionals strongly recommend against adopting two pups at the same time. The biggest challenge of adopting puppy pairs is their tendency to bond very closely with each other, often to the exclusion of a meaningful relationship with their humans. They can become inseparable. Also, owners often underestimate the time commitment required to properly care for and train two puppies; as a result the pups often end up untrained and undersocialized.

In short, here are some of the things to be expected from a Pyr:

They are beautiful dogs with great temperaments given the right breeding, socialization, care including diet and training.

They require a good weekly grooming with a slicker brush and comb to keep them mat free and their skin healthy (hence, pain free from the pulling of mats as they move), and cutting their nails including their dew claws every couple of weeks to a month. This includes working dogs. They molt twice a year and all year round so your vacuum stays full. NEVER shave a Pyr. Their double coats keep them cool in summer and warm in winter.

Their instinct it to wander. Therefore, they require at least a 6-foot secure fence in a large yard in which they can play, run and watch over. No tie outs of any type for these guys. It can lead to aggression since they cannot fully watch over their territory. If they are out all day, as they usually prefer, they need shelter from the elements and fresh water.

They bark more than most dogs and neighbours do complain. That is a common reason for people surrendering their Pyrs (they didn't do their research). Their bark is what deters predators and it is instinct to them. That and marking their territory. To take away their bark is to take away who they are. The barking can be managed but it takes time, patience and consistency with positive-reinforcement training. Never use shock collars. This is cruel since their bark is who they are.

They dig holes in your garden to stay cool in summer.

Diet is very important in having a healthy dog. The best food is raw. This can be obtained from any number of sources including sales at the super market, your butcher or a supplier who specializes in raw dog food. It's important to do your research on it. You need to aim for 5-10% organ meat, 10% bone and 80% muscle meat and feed 2% of the dogs ideal body weight.

If you need to feed kibble, baked seems to be better than extruded since, manufacturers say it retains its vitamin content and manufacturers can use fresh meats instead of rendered meats.

They require much socialization and handling as pups onward with many different people and other dogs.

They require positive-reinforcement training (a trainer who shows you how to work with a clicker and follow people such as Dr. Sophia Yin, Dr. Ian Dunbar, Karen Pryor and Bev Hurst). Pyrs, nor any dogs, take kindly to any kind of punishment. It will lead to aggression.

It's important to work with the dogs as if in a dance and you are leading. Rewards for good behaviour and redirect for unwanted behaviour. It's up to you to make them a good canine citizen. When engaging a trainer, ensure they use positive-reinforcement training and show you how to manage your dog. Never send a dog away for training. You are the one working with the dog, not a trainer.

To train a Pyr is not like training some other dogs. They are not eager-to-please and just as soon walk away from you than do as you say. They have been used for years as guardian livestock dogs because they do not require human intervention to tell them how to do their job. Lots of patience, consistency and time is required to work with them. If you want an obedient dog, this is not the dog for you.

They require regular walks, of course, so they get out and see the world. They must be leashed because they will wander. Again, because they are so good at wandering they have been used to wander with sheep as they watch over them. Do not use choker collars or pinch collars (unless you have been trained how to use one). A harness that hooks in front is easiest on the dog should he pull. How to choose what to use.

There are those in need of a home because someone didn't realize they would get so big, bark so much, leave so much hair in the house, wander, and require work. Or, they ended up going to a backyard breeder or farmer and ended up with a dog who was aggressive because of bad breeding. Or, they forgot they travel a lot or a baby is on the way and they just don't want the dog, anymore.

It is very important to do your research on any breed before deciding if they are a good match for your family. Please start here:

Great Pyrenees Club of Southern Ontario

We never want to see these dogs fail so it's important that children learn how to behave with dogs and that parents never leave their children alone with a dog. Here is a link on that subject:

Best Dogs for Children

If you think you are a good match for Riley, please contact Dr. Carol Graham at 519.853.3005 or 519.855.6439. Leave a message and she will return your call.

If you do want to meet Riley, you must fill out an adoption application.

It doesn't mean you have to adopt him nor does it mean you will be able to adopt him. It simply gives us more information about you and a better idea if you will make a good match.

There is a minimum adoption donation of $350.00 that goes right back into the care of our rescue dogs.