Rocky - Courtesy Posting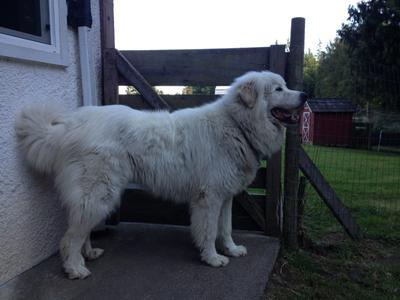 Rocky has found a wonderful loving family. This was his story...

Rocky is on the West Coast of B.C.

Rocky was rescued by someone whose owner was going to euthanize him. Her reasoning was that she couldn't find a home for him. 

From Rocky's foster:

I am not prepared to keep him but would like help to re-home him. He has issues as he has been chained up or let to run free in the woods  and chase deer and chickens. My place is the first where he has seen livestock. He is not safe to been with them he is still too young, but isn't testing the fences. He is okay with horses but chases the goats, chicken and calves. I have two cows, too, and he isn't interested in anything bigger than himself.

He is a  very large, lovely dog, and quite submissive. I have started to take him on leash to do chores to start to expose him to animals. He knows sit, lie down and shake a paw. He has been  raised around small dogs.

Rocky is located on the west coast of British Columbia. A home is desperately being searched for him.

Rocky is beautiful. He is very gentle, he is a love and I can see him being a family pet.

He is good in the downstairs area of my house, hasn't chewed anything and he doesn't whine when separated from me, but he wants to be with me.

He loves walks and I walk all three on leash in the trails. I think he is fine in the car. I have only had him since Sat, but he hasn't been exposed to bathing much, I tried Sunday and he was afraid of the coat conditioner spray.

Typical of a Pyr, he isn't a huge eater, but he has been stressed. He likes to eat off of a plate apparently rather than bowl. He is socialized and had been to doggie daycare. He is 1.5 years, apparently 165lbs, neutered, purebred and papered. The breeder was from Northern BC.

As far as bites, I would say no. There was a misunderstanding as his owner gave him to a guy who had two dogs. The guy took them all home and fed them altogether. Apparently, he said Rocky became aggressive with another dog and jumped up and bit his hand when he separated them. He then called the original owner and told him to pick him up and she scheduled the euthanasia apt. Always feed your dogs separately. No dog should have to fight for food.

I have had a little excitement with Rocky and my hens. I pulled a hen from his mouth and he simply is not aggressive. He is very passive and will lie on his belly when corrected. When he scared he has jumped up and away(bathing). I really can't see him biting, He has become playful and grabbed my hand when I am trying to give him treats and practice some basic obedience, but his mouth is very soft-even when giving him treats. He had no history of biting in his previous home. He does however slobber!!

The food issue I noticed is partly because I am leaving his food down and my min pins will snatch from another dogs dish. All he did was give a warning growl. The area I have they need to share time in the outdoor pen. I am being careful to lift his food first and then letting my wee ones out.

I am not really set up for him long term and this why I want to place him. I can keep him safe short term though.

GPCSOR: Rocky is still young. He probably has potential to become a working dog with patience and training. They need to mature and will become ready by the time they are three years old.

Pyrs are not for most people. Please do your research on this breed.