Sharing my hero and best friend
by Ed A
(New Jersey)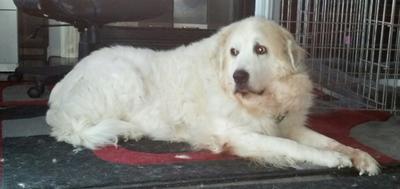 Ed's Hero and Best Friend - Big Beau
Beau is on these pages sharing the story of being my service dog. I just want to share him as part of the wonderful and special breed that he is. As you look at him please feel free to post comments as I have had many questions on the street about this wonderful and slightly above average boy. I welcome comments from a group of pyre lovers.

Beau is 35 inches at the shoulders and 55 inches from tip of nose to the start of his tail (so tail not in the measure) He weighs a stout 165 has double dew claws that look almost like ram horns and are quite thick and hard to trim. His coat is a bit course and very heavy with a light tanish cream mask and one spot over his tail.

While my girl has tight lips Beau has drooler lips. His hips and shoulders are huge and very powerful yet he moves with surprising grace and speed. He has a bellowing bark that he is not bashful to use.

Take a look I value your input and am always looking to learn. Last thing is his semen was imported from France by a breeder who wanted to keep the breed very close to the original breed, did he get it done?