Talos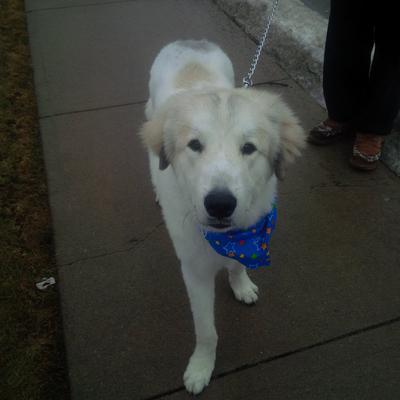 That's it. It's has happened. Talos has woven himself into his fosters' hearts, so, it's official. He has been adopted by Agnes and Richard.

They have been working on taking a few pounds off him through exercise, of which he had a minimal amount before, and a little cutback on mealtime until he gets down to a good weight. He loves the dog park and his walks with his resident pal, Tajge. He has been such a good boy. Way to go, Talos!

This was his story...

Meet Talo. He's a handsome boy at 1 year and 3 months (DOB:17. December 2013) . He is neutered, up-to-date on shots and microchipped.

He's good with children, people and other dogs. He obviously has been well-cared for judging by his well-groomed coat and trimmed nails.

You may wonder why he is in need of a new home, then? He has become too much for his people. They didn't know what they were getting into when they got him as a puppy. They saw only a cute fluffy white dog.

He does what young dogs do if given the opportunity, and that is he makes his own revisions to the furniture which doesn't go over well with his people. He will need to be crated at night while you sleep since his nocturnal instincts kick in, as well as while you are out of the house.

He will need a home ready to work with him, like all young dogs. Positive-reinforcement training works wonders! Have him become a part of the family and ensure he has lots of exercise and playtime.

If he decides to steal a glove or something he knows you value and you try to take it away, he will growl, which is a good thing. He's warning you, and you always want that warning growl. This can be worked with by doing trades of something of a higher value like cheese. Once he drops the glove or whatever, he gets the cheese, and a praise of 'good boy!' He'll soon realize that the his valued item isn't so valuable.

If you would like to meet this boy, please contact Agnes.
Join in and write your own page! It's easy to do. How? Simply click here to return to Rainbow Bridge.
---
---