This is Gus
by Frank and Cheryl
(Ottawa)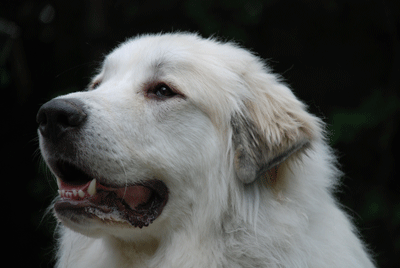 Gus and his Smile
We call him Gus, but he is...

Pyrennial's One of a Kind, CGN, Therapy

Born May 5, 2006, to Sire: Aba Limberlost Remy and Dam: Ch. Pyrennial's Chantilly Lace, Gus is definitely "One of a Kind".

Gus is a very vocal dog. Even as a very small puppy, his breeder, Ann, referred to him as "Grumpy Gus", as he displayed his grumpy puppy growl very early in life.

Gus now lives in rural Ottawa, surrounded by 500 acres of trees and all the wildlife it brings. It is fair to say that he has not gotten any quieter. Any intruder onto "his" property, which is far more property than we own, is announced vigorously. This includes birds at the feeders, butterflies on the Lilac and visitors to our neighbour across the road from our house. Robins on the lawn are not ignored either. He is determined to run off those killer Robins!

We run a very active teaching art studio from home so there is a steady stream of students, visitors and delivery people. Each one receives a vocal announcement and a Pyr review. Once everyone is settled down for class in the downstairs studio, Gus takes up position at the top of the stairs and keeps an eye on his "flock". Students are reminded of his presence by the occasional low rumbling growl that punctuates the class routine. Students can be sure that no harm will come to them under his watchful eye.

A Great Pyr's ability to "read" a situation is legendary, and Gus is no exception. A first-time visitor receives very different treatment than a returning visitor, but only if that returning visitor has been previously welcomed to the studio. When he senses bad energy that welcome is never extended.

Gus has also demonstrated an incredible ability to detect sickness… or maybe it is vulnerability he detects. My Dad was afflicted with Alzheimer's, which was quite advanced during his last visit here before his death. Gus immediately determined that something was not right and set about to "protect" my Dad throughout his entire visit. Wherever Dad went, Gus went too. And when my father sat, Gus laid at his feet. He was never more gentle and attentive. It was unique behaviour at the time. He displayed similar behaviour later during his exam to qualify as a Therapy dog.

Gus is walked regularly in the relative quite of the country. As a result we get to absorb everything around us and experience the very dramatic changes of each season. Gus is very sensitive to change… any change gets his attention. He is always working, always looking for any sign of danger. Nose, eyes, ears. They are always at work. He can detect a car approaching from over 2 kilometres away, long before I can. And the scent of something in the air can bring him to a stop and have him produce his deep warning growl. Mind you, I never see anything or smell anything, but he sure does.

We are blessed to have a Farmers' Market that opens in the spring and closes in the fall. Gus is a regular weekly visitor. All of the regulars know Gus. He has been going there since he was a puppy. There are hundreds of dogs there; making it is a great place to socialize. And of course, as any Great Pyr owner will tell you, there is no end to the questions asked by dog lovers who meet him for the first time. Toddlers through seniors are drawn to this big, white, smiling ball of fur that "floats" through the market. Being a typical Great Pyr, Gus is calm and laid back and very much enjoys the attention. And he is quite capable of dismissing his admirer whenever he has had enough, as if to say: "That's enough, let's move on to my next subject.".

It is said, "You don't get the dog you want… you get the dog you need."

I say: "We have cats to learn about cats. We have dogs to learn about ourselves.". Gus constantly reflects my mood and my energy. I am still learning how to use that mirror since it is a rare gift and a tool we have little experience in using. But because of him, I have grown in my self-awareness and the effect of my energy on him and others.

Are Great Pyrs easy dogs to manage? No. Are they for everyone? No. But there is no other dog like it. Once you've shared your life with a Pyr… no other dog will do.