Tucker
by Maryanne Pearce
(Ottawa Area)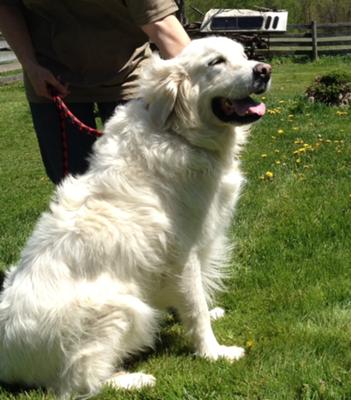 Great Pyrenees Rescue Tucker
We are delighted to report that Tucker has found his forever home. Our thanks to his adopters for making Tucker a part of their lives and family. We look forward to hearing about his progress here on the site.

This was Tucker's story...

Tucker is a lovely boy, born on October 14, 2007. He was described by his owner as her best friend, and she was heartbroken to be transferred and unable to take Tucker with her. He is good with other dogs and cats, and really wants to be with people. He is a true and loyal friend, a bit adrift right now and seeking his family.

Tucker is very easy going. He loves to lay his head on your lap and enjoys a bum rub. He is not as fond of nails trims but will let you do it. Tucker has had training, and even goes to bed when you tell him to. As will most Pyrs, he will bark when someone is at the door.

Tucker occasionally gets itchy in the humidity, and gets hot spots. Dr. Graham is fostering him right now, and is trying raw food to see if this clears up his skin. However, his former owner did note that since taking him to the Doggy salon for shampoo-less grooming, his skin issues went away.

Tucker is a lovely, sweet boy who has made someone his very own family.