Viki (formerly Victoire)
by Marianne Glofhceski
(Lochaber, Québec )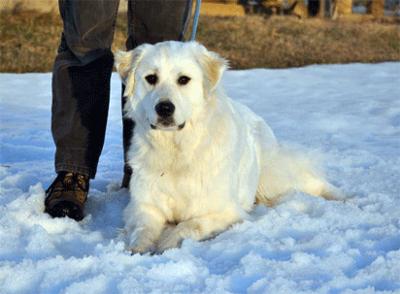 Great Pyrenees Rescue Vicki
This week we said goodbye to a very important and loved member of our family. Viki wasn't just a livestock guardian, she was our family guardian. She loved us as much as we loved her and took her job very seriously round the clock.

Four years ago, we met her and brought her home from the spring picnic. Being a teenager Pyr, when she came to us, we had some challenging moments but we pulled through with support from your team. We are now very experience Pyr owners, now, to say the least. She brought us much joy and was a true Pyr.

She continued to want to keep to routine and even hobbled with her child to the bus after being diagnosed with bone cancer. It broke our hearts to tell her she shouldn't do that any more as really she ccouldn't walk that far and had gotten worse daily.

She told us she is ready now. Nature told us, too. Coyotes sensed her weakness, and were, for the first time ever, coming up to the house.

We want to thank each one of you for all you do on a daily basis tending to these gentle giants. They deserve to live their lives doing what they were meant to do and loving it fiercely for as long as they can.

We will bring another into our lives. We believe it greatly helps fill that empty spot in our hearts.

I don't know about a Rainbow Bridge for Miss Viki though, she will be hilltop, digging herself a cool mud hole spa.

If you remember, at the picnic in a sea of elegant majestic looking, snow white Pyrs, Miss Viki was the one galloping past looking for the first mud hole she could find, only to return to the pack covered in dirt with sticks stuck in her velcro tail.

She lived and loved every day just like that.
Viki said thank you. She had a happy life here with her family. She would give you the Pyr "wink" as she did as if to say "you're alright kid, all good, I got this".💕

This was her story:

Vicki is a pretty and vivacious 11 month old girl who is a bit of a special needs dog. She loves to run with the other dogs, playing chase in turn. It is rather difficult for her to come down to the "moderate exercise" level that is advisable.

Vicki would do well in a calm home where she can continue to evolve into the good companion that she shows aptitude for. She likes human company and walks and petting. She is learning the social graces such as correctly walking on a leash but she does get excited and jumps for joy when we spend time together. Well, she is an adolescent after all but she is learning. She wants badly to have her own special human.

Something happened to her when she was little, running and playing with a child, and she started limping. The people brought her back because they didn't want to deal with this. Over the last few months, with supplements, cartrophen and metacalm, she has responded well and only favours the left hind leg occasionally which stops with some metacalm. Since she is young, she is responding very well.

Vicki only asks to be able to "hang out" with a human who will be her own.