Weissen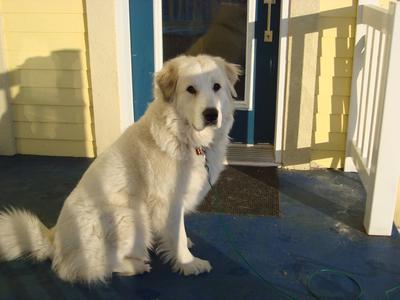 Sadly, Weissen succumbed to her cancer.

Weissen will remain in foster due to impending health issues. A cancerous tumour was discovered on her anus. To remove it would mean she would become incontinent.

This is her story:

Weissen was acquired from a reputable breeder by her people. Unfortunately, they are no longer breeding so we have taken her in.

She is from a Limberlost/Monark breeding. She is now eight years old but her barking became too much for her people and neighbours, so, much to their sadness, they have had to surrender her.

She is typical of a well-socialized Pyr in that she is great with people, children and domestic pets.


Join in and write your own page! It's easy to do. How? Simply click here to return to Rainbow Bridge.
---
---