Callie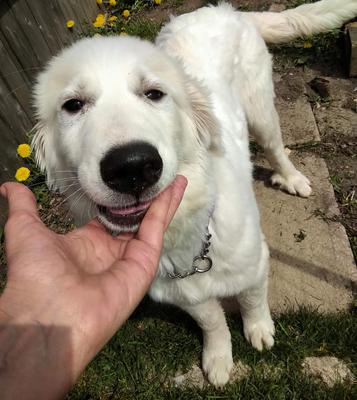 *ADOPTED*

DOB: December 15, 2021 - 5 months old

Located in Erin, ON

Callie was surrendered because she was attacked by the resident Dane. She gets on wonderfully with the foster's dogs.

This little sweet girl, like all dogs should have, is looking for a home where she will be well-loved and become part of the family. She does need some work on the leash.

She is crate-trained so she has her safe space.

Callie is a little shy of other dogs so, as always, things must be taken slow with her in order to gain her confidence. If there is another dog in the home, he must be a stable, confident male who will treat her with respect.

She is full of puppy energy and doesn't know when to stop. So, you help her with this by crating her so she can learn to settle, along with working through educating her. You must be ready to work with her through puppy classes and Home School the Dog or Recallers to give her the best chance at success.

She loves to play, play, play so she would like to have a like-minded dog in her new home,but you'll still need to monitor them, and make sure there are breaks.

She is good with people. She would love to go on shorter walks and hikes until she matures at which point they can be increased.

She will go to a home with Pyr-experience.

A single dwelling with a secure fully-fenced yard of at least 6-feet is a must.

A prerequisite to adopting Callie is taking puppy classes and signing up for Home School the Dog or Recallers to ensure you have the best chance at success with Callie. Proof of registration will be required before you take Callie home.

If you are interested in meeting Callie, please complete an adoption application.

There is a $400 adoption contribution that is to be sent to us prior to going home with Callie. If things do not work out at the meet and greet, we will refund your $400.
Return to Post A Happy Tail 2022.
---
---