Courtesy - Ollie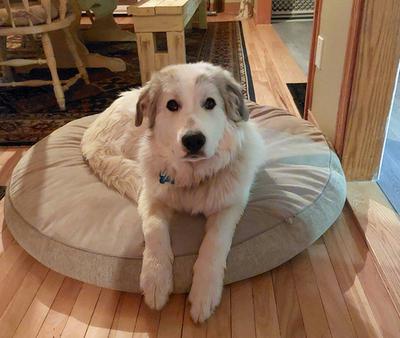 *ADOPTED*

DOB: April 23, 2022

Location: Hinchinbrooke, Quebec

Crate-trained and sleeps in it at night

Good with children

People coming into the home: No aggression, but will bark out of nervousness; take time with introductions so ignoring him. He obviously missed out on the crucial socialization with many, many, many different people in his first 13 weeks of life. Continued socialization and stimulation will be very important.

Single family dwelling with securely fenced area. He'll do best as a working dog as he matures.

Dogs: He is good with them, but a female as not all same sexes see eye-to-eye

Leash: He still needs some work on this

Car: He is apprehensive, but with positive training, patience and good experiences, he will be fine.

Other Animals: He is great with the sheep, pigs and horses so consideration will be given as a working dog; as a Pyr, he loves to be outside. He is still too young to be alone with the animals. A mentor will be beneficial, but not a must.

Resource Guarding: Not to people but with other dogs. He shouldn't have to share his food. Just feed separately.

No destructive behaviours in the house

No separation anxiety to-date

From his foster:

Ollie was clearly mistreated during the few months of his life, which makes him scared of unknown objects. Since being here, he has learned that rakes and sticks are not weapons, which has been really amazing. He is trying very hard to do the right things, which I can see. He is bonded to our children and given a little more time, would fully recover, I think. He is nervous around newcomers—he needs a proper introduction before they enter his space. He isn't aggressive, but he will bark at them, which can be unnerving for some! His recall needs some work. He stays pretty close to me when I'm out doing chores. He also really likes being rubbed just above his tail, which is quite funny.

He gets on with the cats and other dogs (we have two great Pyrs, a Dalmatian and a cattle dog)-except out oldest PYR gets a little annoyed with his barking. Great with the sheep, learning boundaries with the horses and very respectful of our pigs.

What Ollie needs is time and stability. We took him out of an emergency situation. Once I met him, I knew that he'd be lost if he went to the SPCA. I knew I could help, given our setup and farm, given his age. He's already learned so much in his time here and I really hope we can get him to a forever home. He shouldn't really have any more transitions in order to encourage his confidence. We are moving to BC at the end of the summer or fall, with our four dogs. In the meantime, he has a home with us, with plenty of farm stimulation. My children adore him and he is particular fond of my husband. Every day with him and his quirky personality makes it a little harder to let him go.

A pre-requisite will be to sign up for Recallers or the Home School the Dog program. Proof of registration will be required. We want to set him up for success.

If you are interested in meeting Ollie, please complete an adoption application.

There is a $400 adoption fee by his foster.