Doug and Bob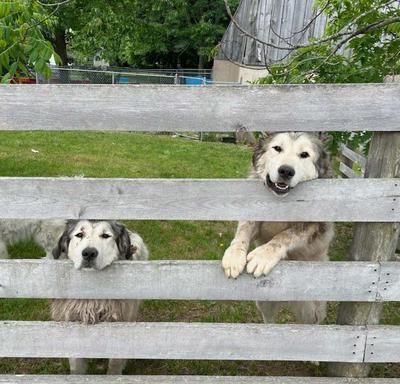 *ADOPTED*

These two have gone to their new family.

DOB: Nov. 27, 2021 (our guess)

Location: Erin, ON

These two will go separately.

Single dwelling home or hobby farm with a securely fenced large area of at least 6 feet. They would be just fine living outside with shelter.

These boys are not house-trained, and seem not to have lived in a house so come integration would be required if you want them to spend nights inside.

They are both very sweet, and friendly. Bob is more timid, and very bonded with Doug

They need leash work.

They would probably be fine with cats with proper introductions.

They are pretty rowdy youngsters, and act like overgrown puppies. They were very good to be bathed and groomed. When they were found as strays by animal control, we think they had probably lived in a small space and/or were chained up. Their coats were dirty, smelly and urine stained. But, they were neutered and overweight so it seems odd that no one claimed them, but they lucked out in coming into rescue to find their new home.

If you want to meet either of these two boys, one of them might just be the boys for you.

A pre-requisite will be to sign up for Recallers, or a modified version Home School the Dog program to give you and these two the best chance at success. They definitely need training and one or both programs will get them on the right track. Proof of registration will be required.

If you are interested in meeting Doug or Bob, please complete an adoption application.

There is a $400 adoption contribution. All proceeds go back to the dogs in our care.
Return to Post A Happy Tail 2023.
---
---