Oden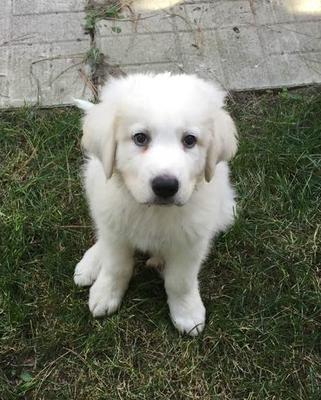 It's official. Gus Oden has been adopted. It didn't take long before Gus Oden's family fell in love with him. They are doing the work with him to socialize and have him handled by many many different people and expose him to different situations so he's ready for life and people.

His people will be starting puppy obedience with him soon.

He'll be a working dog as soon as he is old enough and he'll get to do the job for which he was bred. Go Gus!

This was his story:

Meet Oden. Born July 14, 2016.

He is an 8-week old Great Pyrenees bundle of love. He came into foster care not because of behavioural issues, but because the family realized this was not a "Labrador" like they were told. Broken hearted, they surrendered him to rescue.

He is an absolute joy. Greets you wagging his tail, LOVES people and children. He's extremely calm and respectful. As a Pyr, he is cautious and curious.

If he goes to a farm with another dog, the other dog must be female. Two males or two females will not always see eye-to-eye.

When hearing loud sounds he stops and comes near someone he trusts but is learning fasts that these sounds are fine. 

He loves being outside and being around people. He is not a confident dog but is learning to be confident. 

He has no food aggression at all. He is crate-trained and almost house-trained.

He's still learning to walk on a leash.

In short, there is nothing wrong with this love bug. With patience and consistency he will be an exceptional dog for someone who makes a good match for him.

He is quiet and calm but active when needed. He is suspicious, as Pyrs are, and learns fast. He loves being outside.

His adopters must commit to two sets of obedience classes with him to give him much socialization and the training required.

He will go as a guardian livestock dog.

He will be co-owned by the Great Pyrenees Club of Southern Ontario until such time he is to be neutered. The GPCSO will subsidize the neuter.

There is a minimum $350 adoption donation.

In short, here are some of the things to be expected from a Pyr:

They are beautiful dogs with great temperaments given the right breeding, socialization, care including diet and training.

If you want a pup, always talk to a reputable breeder. That is, a breeder whose dogs are registered with a recognized kennel club, who will interview you thoroughly, allow you to see where the dogs live and the pups with their mother. A breeder will only breed their bitches two maybe three times in their lifetime. They will followup with you to ensure you have neutered and spayed.

They require a good weekly grooming with a slicker brush and comb to keep them mat free and their skin healthy (hence, pain free from the pulling of mats as they move), and cutting their nails including their dew claws every couple of weeks to a month. They molt twice a year and all year round so your vacuum stays full.

NEVER shave a Pyr. Their double coats keep them cool in summer and warm in winter.

Their instinct it to wander. Therefore, they require at least a 6-foot secure fence in a large yard in which they can play, run and watch over. No tie-outs these guys. It can lead to aggression since they cannot fully watch over their territory. No e-collars.

If they are out all day, as they usually prefer, they need shelter from the elements.

They bark more than most dogs and neighbours do complain. That is a common reason for people surrendering their Pyrs (they didn't do their research). Their bark is what deters predators and it is instinct to them. That and marking their territory. To take away their bark is to take away who they are. The barking can be managed but it takes time, patience and consistency with positive-reinforcement training.

They dig holes in your garden to stay cool in summer.

They require a lot of socialization as pups onward with people and other dogs. They also require positive-reinforcement training (a trainer who shows you how to work with a clicker). Pyrs, nor any dogs, take kindly to any kind of punishment. It will lead to aggression.

It's important to work with the dogs as if in a dance and you are leading. Rewards for good behaviour and redirect for unwanted behaviour. It's up to you to make them a good canine citizen. When engaging a trainer, ensure they use positive-reinforcement training and show you how to manage your dog. Never send a dog away for training. You are the one working with the dog, not a trainer.

To train a Pyr is not like training some other dogs. They are not eager-to-please and just as soon walk away from you than do as you say. They have been used for years as guardian livestock dogs because they do not require human intervention to tell them how to do their job. Lots of patience, consistency and time is required to work with them. If you want an obedient dog, this is not the dog for you.

They require regular walks, of course, so they get out and see the world. They must be leashed because they will wander. Again, because they are so good at wandering they have been used to wander with sheep as they watch over them.

There are those in need of a home because someone didn't realize they would get so big, bark so much, leave so much hair in the house, wander, and require work amongst other reasons.

A Pyr is not for most people.

It is very important to do your research on any breed before deciding if they are a good match for your family. Please start here:

The Great Pyrenees

Regarding dogs and children. We never want to see these dogs fail so it's important that children learn how to behave with dogs and that parents never leave their children alone with a dog. Here is a link on that subject:

Dogs and Children

If you are interested in Oden, call or text Jana at 647-267-9917 or email at potensbeast@hotmail.com.

If you would like to meet Oden, please fill out an adoption application.