Pearl - Courtesy Posting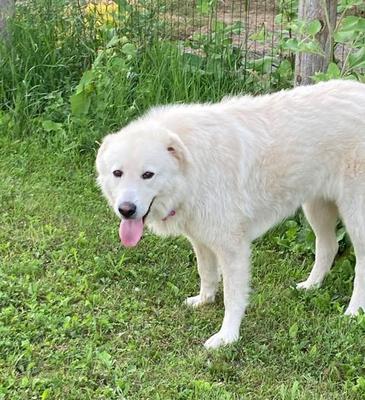 *ADOPTED*

She is not being adopted through the rescue. However, you must fill out our adoption application. We will, then, forward it to her owner who will be in touch with you.

D.O.B. - 1. October 2016

Located near Brantford. Working Dog.

Akbash/Pyr cross

This very sweet girl has great potential as a working dog. It will take about a month to work with her to get used to your livestock.

She presently lives on 40 acres where she keeps the coyotes at bay. She chases them off the property. She also keeps stray dogs off the property.

She allows invited guests onto the property.

She lives outside, and only goes into the house for brief visits.

She must go to an adult-only home as she start exhibiting strange behaviour around children in the last five months. She jumps up suddenly, and barks at them. She had bloodwork done, and results came back. She has a clean bill of health.

Please complete the Adoption application if you think you are a good fit for her.
Return to Post A Happy Tail 2021.
---
---