Sam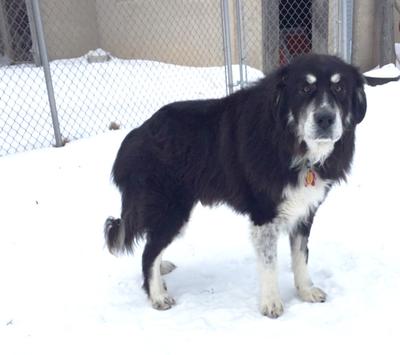 August 17, 2023

Sadly, Sam was euthanized due to the number of seizures he was having. Our heartfelt condolences go out to Caitlin.

*Update July 5, 2022*

Hello! I just wanted to give you an update on Sam since it's been a while. We have had some ups and downs with his house training and him and my male Saint have a complicated relationship. But we are working on things, and I am not giving up.

He is such a sweet boy, he absolutely loves his snuggles and belly rubs.

He is mostly outside in the fenced in yard, which he loves. He has a dog bed on my hot tub as that is his favourite spot.

We are slowly getting him to sleep in the house at night, I have to barricade zones off for him, but for the most part he is getting much better with his marking. Sometimes I crate him as well, and he is pretty good with being crated too.

He loves people and attention, and is a happy social boy.

His back legs have been getting stronger now that he isn't on a chain and can roam around my yard, we have been going on some walks, not too many so I don't stress out his back legs, but he loves it when we do. I've been grooming him at home, and he is the perfect gentleman, I can brush him, clean his ears and even trim his nails with great ease. He truly is a sweet older gentleman.


*ADOPTED*

Big Sam went to the same family who adopted Nellie. He's a pretty happy boy, and has adjusted well to living inside. He gets to go to work with his people sometimes.

Congratulations!

His story:

DOB: Unknown but we think he is over 8-years-old.

Weighs in at about 90 pounds.

Location: Acton, ON

We think he is a Tibetan Mastiff/Pyr mix. He came from the same place as Lady and Loki, both of whom have gone to their forever homes.

Sam spent his life chained up although loved. He had lost muscle mass but has improved since he arrived here. He will benefit greatly from lots of walks and hiking. He will need leash training.

He is very sweet boy. We think he would be fine with children over 12-years-old.

He plays well with Tina, who is also looking for her forever home. He will be fine with a female dog in the household.

However, his new family will either have to house-train him which will take patience, or he can live outside with an appropriate shelter, and lots of love.

You must be ready to groom him regularly to keep his coat free of mats, and allow the air to move through his coat freely so he can stay warm in winter and cooler in summer.

He will go to a single detached dwelling with a securely large fenced yard.

He is on a raw diet which is species-appropriate.

We highly recommend signing up for Home School the Dog to gain a closer connection with Sam, and to learn how to work in positive manner with him.

Adoption contribution is $400. We ask for the adoption contribution before you meet Sam. If it doesn't work out at the meet and greet, we will return your contribution.

If you think your family is the right fit for this boy, please fill out the Adoption Application.