Shayla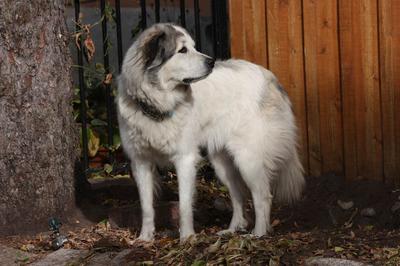 Great Pyr Rescue - Shaman
*ADOPTED*

DOB: June 15, 2012

Location: Erin, ON

Unfortunately, Shayla is looking for a new family. Sadly, her owner recently passed away. They had adopted her in 2014. She was living with Lady whom they also adopted from us last year, 2021. Lady has been adopted.

Shayla is an absolutely lovely dog. She will go to a single family home with a securely fenced yard.

These photos are from 2014.

She is good with people and other dogs.

If you are interested in meeting her, please complete an adoption application.

There is a $200 adoption fee.

Her last adoption:

Shayla (formerly Shaman) has found her forever home. She has a pal Pyr and four Norwegian Fjord horses on a 90-acred fenced property. This sweetie girl couldn't be happier and we think her new family is pretty smitten, too!

Her story:

This sweetheart is a two-year old full Great Pyrenees. She was surrendered by her family due to unfortunate circumstances. She seems to be very well-adjusted. She is small for a Pyr at maybe 70 pounds. She does need to put some weight on and is finer boned than some.

She seems to love people, children and is fine with other dogs. She is a very lovely girl.

She knows her sit and come.

She is moulting at the moment, as Pyrs do, but nothing regular grooming won't keep under control.

As a Pyr, she does bark, dig holes in your garden, and shed (all of this can be managed). She will wander if not contained so she will need a home with a minimum 6-foot fence inside which she can play and watch her territory.

Pyrs needs patience and consistency in their training and someone who will work with their instincts. Please do your research on this breed before deciding to bring this breed into your home. We have very good information on our website.




Return to Post A Happy Tail 2022.
---
---