Training Your Pet
Looking for help with training your pet Pyr?
Can you answer these questions?
1. Why do Pyrs jump up and attack leaves on trees?
2. What is "Sheep Time"?
3. How much space does a Pyr really need?
4. How smart is your Puppy?
5. Can Pyrs easily switch from being a family pet to being a Livestock Guardian Dog?
We can answer those questions... and we do in our newest effort – a book titled Tips on Training and Living with your Pyr Puppy.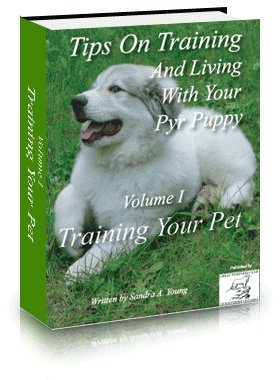 All About Pets saw the successful launch of Volume One of Tips on Training, which deals with training and living with a Pyr as your pet. Volume Two will be about living with a Working Pyr.
Tips on Training deals with the trials and tribulations and the joys of living with a Pyr Puppy. It talks about the Pyr's behaviour and temperament and gives reasons as to why your Pyr acts as he does. It also explains how to work with your Pyr to ensure that she is properly trained; no matter what method you decide to use.
Not only are the above questions answered but we provide a great deal of information on training and raising a Pyr, all of which is based on the personal experiences of Pyr owners.
Our goal is to provide you with real life experiences that will guide you in your training, thereby reducing stress and anxiety for both you and your puppy while learning to live together.
We are currently working on Volume Two of Tips on Training. Stay tuned to our website for updates.
Tips on Training can be ordered as an e-Book for immediate download to your computer.

Or you may prefer to buy a hardcopy version of the book.


Leave Training Your Pet
---
---