Twiggy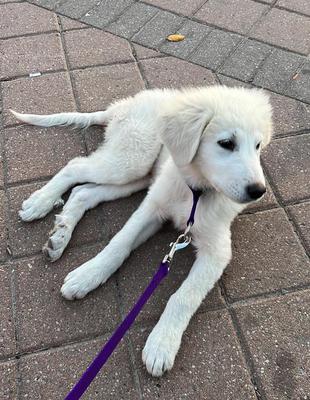 *ADOPTED*

She is in a home built for Pyrs!

Location: Erin, Ontario

D.O.B: July 8, 2022

An experienced Pyr adopter required. Children over 12 only.

The sweetie was with her family for only a week when they decided they didn't have time for her. They were unable to reach the farmer breeder to return her. Any reputable breeder will take their dogs back for any reason.

This puppy needs a family who will be committed to making her a part of their lives for her entire life, and learn how to work with her to make her the best dog she can be.

She will need to be socialized with dogs you know will be kind with her so find someone or a dog group who has a dog(s) with whom she can play and learn how to be with other dogs while being supervised. She is presently with other big whites, and doing very well. No dog parks.

She will also need to be socialized with as many people as possible coming into your home and outside your home. Take her to as many places as possible where she can have good experiences once she has settled into your home and trusts you.


She will go to a home with a securely fully fenced yard of at least 5 feet in a single dwelling home. If you have other dogs, it should be a male dog. Not all same sexes see eye-to-eye. Whether you have a backyard or 200 acres, you will still be required to have a fenced-in area for Twiggy where she can run and play.

She is a good girl! She loves to play, play, play so another dog in the home would be great who loves to play, play and play. She is pretty tired at the end of the day, and will put herself to bed.

She will be co-owned with the rescue until such time as she is ready to be spayed. We will fund the spay.

A pre-requisite will be to sign up for Recallers or Home School the Dog. to give you and puppy the best chance at success. Proof of registration will be required.

If you are interested in meeting Twiggy, please complete an adoption application.

There is a $500 adoption contribution. All proceeds go back to the dogs in our care.
Return to Post A Happy Tail 2022.
---
---