Great Pyr and Bear - Pet or Working Dog?
Some of us have Great Pyrenees Mountain Dogs as pets. Others have Great Pyrs as working dogs. We make a great distinction between the two and expect different behaviours based on the role. We work hard to socialize our pets to ensure they maintain the right to share our space in our society. But at the heart of all Pyrs lies a true guardian. Yes we socialize a Pyr so that it has acceptable behaviour in our social lives. But underneath that thin veneer lays a very serious protection dog.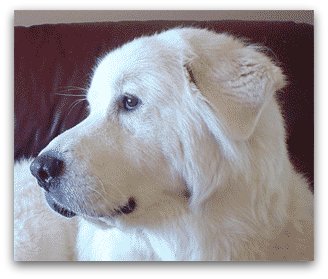 Dennis Loxton has said that most Great Pyr owners do not know just how much protection they have. Dennis should know. He has used the Great Pyr for over 30 years to protect forestry workers in the interior of British Columbia, an area famous for its Grizzly Bears.
Have you ever wondered what you would do if you and your Great Pyr were confronted with a real threat? Have you ever wondered what your Great Pyr would do?
Most Great Pyr pet owners are never in a situation where the dog's "natural" enemies are present. Here is an account of a family who has seen their Great Pyr at work… a family pet with the giant heart of a Lion.
Oh… and you should know, this is a large family that has integrated their Great Pyr into their daily lives. In the words of her owner Martha, "Frank is a "textbook" Great Pyr and almost every day she demonstrates her loyalty, intelligence and her protective nature. We have such a busy household, with 5 kids, my husband and me, Nana & Papa, our cat, bird and part-time Cairn terrier."
Here is a little background to provide context for this story. Martha and her family are very responsible Great Pyr owners. They have a well-balanced, well-socialized Great Pyr as a result. Her name is France. They call her Frank. Although it is not recommended for a Great Pyr, Frank is sometimes off leash.
Again, in Martha's words: "Frank is a weird Pyr in this respect. She has never been tied up. At home she has a dog run and a fully fenced yard, and I know if she wanted to, she would be able to get out... but she always seems to want to be around us (her big family: her flock)."
"At the cottage she has marked her territory all around the perimeter of the clearings, from the edge of the dirt road coming in, right to the water's edge and about 12' into the bush. In 4 years (She turned 4 August 5th) and many seasons at the cottage, she has never left the "property". She is only out and technically off leash when the family is outside. When we all go in the house either she comes into the covered porch, is corralled on the outer deck, or comes into the cottage with us. She has been like this since she was a puppy. She seems to want to always keep an eye on us."
It was Wednesday August 4th, the day before Frank's 4th birthday. The family was at the country cottage while Dad worked.
Martha first reported: "From what I can gather from that evening, while I was getting supplies in town, the kids were winding down some outside fun. Frank was out loose on the property with them. It was completely normal. The three girls were just coming in to shore with the canoe, Eric was standing next to the fire pit with his scout knife sharpening sticks for marshmallows, Jonathan was on the dock trying to splash the girls, Nana was on the deck barking orders at everyone, and Papa was inside the porch nodding off."
"Eric says that Frank was actually up to her chest in the water greeting the girls coming in with the canoe, when she suddenly turned around and started running right at him, then; went right past him. The bear came out of the woods behind Eric..."
Here is the first-hand account from the seven witnesses to the event that evening.
Eight Degrees of Observation: A Pyr-spective
Our 4 year old female Great Pyrenees received minor injuries when she challenged a bear at the cottage on Wednesday August 4th. According to my family, who witnessed the scene; "FRANK" bravely defended the family and property; and eventually chased the bear off.
I was not present at the time; arriving home about 15 minutes after it was all over. I found all five kids, plus their grandparents out on the deck, surrounding Frank. Everyone started talking at once and I was bombarded with many versions of the incident. I never really got the entire story… until now.
Here are all 7 accounts provided by each witness when they were asked to describe what they saw… plus the final word, from Frank herself.

Anna: 17 year old, highly excitable.
"Oh my friggin' GOD! It was like, soooo scary! Okay, so me and Kat and Bec were just coming in to shore in the canoe. I was in the front, so I saw EVERYTHING. Frank was coming into the water towards us cuz she was happy we were back; she was wagging her tail and smiling…well, dog smiling. Then, she like STOPPED, and her head spun right around and she made this growling noise and took off out of the water. She went flying up the hill right at Eric. And then I saw it! It was huge! It came out of the woods right behind Eric. I heard Jonathan yell something; I don't remember what, then Nana started to yell at Eric to RUN! Nana was up on the deck, freaking out. So I just started screaming my head off. Kat and Bec were screaming too. They were behind me in the canoe. We were all freaking out, because it was going to eat our little brother! But Frankie was like right THERE! And she was barking so loud and running at it, over and over. Eric ran to the cottage and the next thing I knew Johnny was in the water pushing the canoe back out. He just said "Less screaming and more paddling Ladies" which was really sketchy, but it calmed me down a bit, so we started to back paddle the hell out of there! Frankie was still like going all "Chuck Liddell" over the bear; and there was so much awful noise. I couldn't believe Frankie girl! The bear was angry, but Frank was like, ANGRIER! They fought and then the bear turned around and ran into the woods. Kat was crying and so was Bec. I didn't cry until later….you know…when I saw Frankie bleeding from her neck.
Kat: 15 year Old: afraid of her own shadow.
"It was the worst noise I ever heard. I didn't see it until Johnny yelled something weird and Anna started to scream. I couldn't believe it when Frankie ran right up to it. It was huge. Really, really big. It was right by Eric at the fire pit. I closed my eyes and started screaming. Then I started to cry. I put my head down between my knees so I wouldn't have to see any more. Then when I put my head up, we were back out in the water way past the dock. I saw Eric was on the deck with Nana. Frankie and the bear were gone. Johnny was on the dock telling us to stay calm. I wished daddy and mom were there. I wished mom would hurry up. Becca was in the back of the canoe and she was crying while she was paddling, so I told her to stop and I stopped too. Becca kept saying "Where is Frankie? Where is Frankie!?" and then Frankie came out of the woods and the bear was gone. Frank went up and down, and up and down the side of the woods. Papa was on the deck calling her, but she didn't listen. She just kept going up and down the whole side of the woods. Then Johnny told us to hurry and paddle in to the dock, and he held the canoe while we got out, and we all ran up onto the deck to Eric and Nana. We all stood on the deck looking into the woods, and Frank was still walking around…it was starting to get dark. Nana said she thought that Frankie was hurt. So we opened the gate on the deck and we all started calling her to come over, and come up on the deck. And she finally did. There was some blood on her neck and Anna started to cry. None of us knew what to do. Nana said to wait for mommy.
Jonathan: 14 year old: Day Dreamer with Asperger's Syndrome
Frankie heard the crunching in the forest and then she heard the breathing. I saw her put her nose up and smell it before it arrived. I saw the bear first and yelled as loud as I could "Bruin! Bruin!" My brother Eric was within its reach but Frankie wasn't going to let the bear snack on him! No way! I think the bear was surprised to find a white knight protecting my brother. The girls were in the canoe shrieking….which was silly. I pushed them back out into the river; they could scream all they want and be safe out there. The black and white started to duel over Eric, but he took off faster than a jack rabbit. White and black pushing and pulling. Just like fencing. Frankie said "en garde!" and they jumped around each other like pirates. The teeth were like swords crashing. It smelled vile though. I think the bear had bad breath. The black was getting tired; and white kept pushing it back into the woods until the black turned around and ran. The victory went to the white. You know….good over evil…. National Geographic style. Frankie is an angel dog.
Becca: 13 year old: Drama Queen.
I saw this giant thing come out of the woods right where Eric was standing. I wanted to scream at him "look out! Run!" but I couldn't say ANYTHING. I was FROZEN. Frank SHOT up the hill right at the bear. She was NOT afraid. She was so fast and LOUD. She pushed Eric out of the way and ran at the bear, over and over. She was biting and barking and jumping at it. The bear was gigantic and was roaring at Frank, but she roared back and they fought. Eric was safe on the porch, and then the next thing I knew, Johnny was telling us to paddle and stop screaming. I wasn't screaming, but Anna and Kat were. So was Nana. I paddled us out into the middle of the river and the bear and Frankie were fighting the whole time. The bear couldn't take any more and it started to back away. Frank didn't stop. She kept running at it with her teeth. Then the bear turned around and went into the forest. Frank chased it. I could hear barking, but I was scared Frankie wouldn't come out of the forest. What if there were more bears waiting in there? I got really scared and started calling Frankie. She came out to the edge of the woods and showed me that she was okay. Then she ran back and forth while we were paddling back in. Kat was shaking and refused to open her eyes…I kept telling her that Frank was okay and the bear was gone. Johnny helped us get out of the boat and told us to run up to the cottage while he tied up the canoe. He didn't seem afraid at all. Johnny is brave too. Eric was kinda in shock I think. He was the closest to it. He loves Frankie the most; because she saved his life I think. Frank was hurt a bit, but she is tough. I don't think the bear will ever come back. Eric is lucky. We are all lucky that Frank was there to chase the bear away.
Eric: 12 year old with a story to tell when he gets back to school
I've heard stories about Great Pyrenees fighting off bears, but I never thought I would see it with my own eyes, and with my own dog. It's hard to explain the first couple of minutes. I didn't know there was a bear behind me until Frank came running up to me. I knew something was up because her face wasn't at all happy; she was like, really SERIOUS. She had her teeth showing and she looked scary and she went right past me. I heard Jonathan yell BRUIN! BRUIN! BRUIN! And I was like, oh crap; that means BEAR! My sisters started screaming and Nana started yelling, and Frankie was barking and growling, and I was like, oh double crap! I turned for a second and Frankie was behind me and right in front of her was a black bear. It was ten times the size of me and I could see its teeth! I had a little knife in my hand, but I dropped it. I booked it outta there and right up onto the deck. Nana was holding me way too tight against her, so I had to fight to turn around and watch. The bear was trying to come onto our property, but Franks wouldn't let it. She kept getting in the way. The bear would try to come forward, and Frankie would force it back. They made an awful sound….a wild, terrible sound. I was worried that Franks would be hurt, but she seemed to be in control. She pushed the bear right off our property and back into the woods. She told that bear right off! Frankie is awesome and the best dog in the world.
Nana: (Refused to give her age and is finally glad we didn't get a Poodle")
I was keeping an eye on all the kids from the deck, while Martha was in town. Jonathan was on the dock, the girls were landing the canoe, and Eric was at the fire pit. Papa was reading his book in the porch. The dog was splashing around in the water one minute and then flying up the hill towards Eric the next. Jonathan yelled BRUIN, but I didn't know what the heck that meant until much later when he explained it to me. Anyway, I watched the dog race towards Eric and then I saw it. The bear came out of the woods near where Eric was whittling sticks for marshmallows. The dog stopped between the bear and Eric and started making a huge ruckus. I hollered at Eric to run to me and he dropped his sticks and ran as fast as he could to the deck. I then started to worry about the girls who were screaming their heads off just a few feet from shore. Thank God Jonathan was there, because he jumped into the water and pushed them back out away from shore. Then he climbed back onto the dock. I watched the bear try to come closer but France wouldn't let it. She was making a lot of noise and looked downright vicious! The bear was snarling and growling like a crazed dog itself. France was so brave! She kept pushing forward, forcing the bear back towards the woods. I could not believe what I was seeing. The bear was so big, but France was so determined to drive the bear off the property. She was amazing. She protected my precious grandchildren, at great risk to herself. I will always be indebted to this wonderful dog.
Papa: 73 year old male, with a new appreciation for the Great Pyr.
I did not see the lead up…I just heard the commotion. A lot of yelling and screams. Eric flew up onto the deck, and Bonnie (Nana) was hugging him. I stood up and could not believe what I saw. There was the dog, facing off with a black bear right next to the fire pit, where Eric had been standing only moments before. The dog kept pressure on the bear. She was pushing the bear back. The dog was constantly moving, constantly darting in and out, and constantly barking and snarling. There was no indication of fear. She was systematically charging and retreating, and pushing the bear away. At one point the bear took a swipe at her, and hit her, but she did not falter. She lunged and got in even closer. I could not believe what I was seeing. This was the gentle giant that lies at my feet. This was the docile creature that sits by the door and awaits my return when I walk to the mail box. The beast before me kept forcing the bear back into the woods. She was a fierce and ferocious dog. I could not take my eyes off her. It was as if she had been trained to do this. I believe that she became such a nuisance that the bear decided to leave. The bear was obviously much bigger and stronger, but the sheer DETERMINATION of this dog was the determining factor. At least that is what I think. I have never seen anything like it. My grandson was in harm's way, and the family dog saved him. As a matter of fact, that dog saved ALL of the kids that night. I would have never thought she would do that. After she drove the bear off, France returned to the property and trotted up and down the tree line. Her tail was erect and her head was high. She continued to patrol up and down for several minutes until Nana noticed she was bleeding. Then we all coaxed her to come up to the deck. The kids were upset to see that the dog was hurt. Luckily, it wasn't serious. I have newfound respect and gratitude for this dog.

France (Mia Mountain Spirit Sky Dancer) A.K.A –Frank, Frankie, Franks – Dedicated Great Pyrenees
Look, I really don't see what all the fuss is about. I was doing my job; plain and simple. The Alpha Female and Alpha Male were absent. My duty is to protect my flock. I sensed a threat. It was obvious that the little one they call Eric was in danger. I am quite fond of the little one. So, I raced to confront the bear just as it arrived at my property. I challenged the bear and engaged it while the little one ran to safety. Then I simply persuaded the bear to go away. It took a bit longer than I thought, but 4000 years of breeding and instinct told me that I have the skills and the desire to send that bear packing. And I did. It is what I was bred to do. It is my duty to my flock. I am their Guardian. After I chased the bear off, I patrolled my perimeter for a while to be sure. The flock was calling to me, but I had to be certain that the bear had indeed left the area, and there was no longer a threat. Once I was sure, I went over to comfort the flock. They were in quite a state. I lay down in order to calm them. The flock responded to me, and began to relax. It was a great honour to defend my property, my flock and my family.
Epilogue
As all Great Pyr lovers know, we have for some reason been attracted to a breed that goes back some 4000 years. They are unique. They are amazing. They are challenging. But in the end there is no dog like it. They have demonstrated that they can adapt to a lifestyle other than that for which they were bred. But their original purpose lies just below the surface, forever ready to emerge.
A Great Pyr is very good at detecting threats. It is also very willing to deal with them. But here is also what we understand about Pyrs that make them such amazing guardians. They will only use as much force as is required to protect. Sometimes it's a bark. Sometimes it's a growl. Sometimes the response is rushing the predator and intimidating without contact. Pyrs are not inclined to attack and bite unless it is a last resort.
Now of course we are talking about well-bred, well-socialized Pyrs here. A Great Pyr that is not properly socialized from puppyhood on up can be a very aggressive dog. Many are surrendered as a result and sadly, some are euthanized where rehabilitation is not possible.
Frank is what we all want in a Great Pyr. She is a well-behaved, socialized dog that has no issues with people or other animals. This gives her the right to be in a family such as Martha's. But she is also a Pyr... a guardian. Sure she can run off the occasional unwanted "visitor" and she will ensure that each new guest receives a Pyr review, but like all Great Pyrs she is also a killer if that is what is required. And she does not care about outcomes. She will give her all to protect her family.
Can she hurt someone? Yes if they present a substantial threat. And Pyrs are very good at assessing threats.
Can she be injured as a result of doing her job? Yes.
Will she give her life for you? Yes.
Is she dangerous? Absolutely not! She is only as dangerous as the threat.
It is sometimes said that a Great Pyr is like a Lion in dog's clothing. They just do not act like a typical dog. And then we hear stories like this, and we know this is not a typical dog. But it is a typical Pyr.
Do you have a Great Pyr as a pet? Is your big, lovable, friendly, white, gentle giant a social animal that loves people and other animals? Your Great Pyr is not a working dog… is it?
Maybe as Great Pyr owners we all need to remind ourselves that all Great Pyrs are working dogs. By socializing a Great Pyr we do not remove the working dog. We simply cannot erase 4000 years of conditioning that easily. By socializing, we equip a Great Pyr with the social skills required to be in our homes, on our streets, in our parks and even in our hospitals and nursing homes to provide comfort.
But make no mistake… in even the most good-mannered, well-behaved, well-socialized Great Pyr, there is a serious working dog, ready to go into action to defend its flock.
And how is Frank? Frank sustained punctures in the skin around her neck, a bite on her tongue and a couple of broken nails. Her mane did its job and saved her from more serious injury. Of course her wounds are being dressed and she is receiving her meds in her steak dinners that she enjoys as her reward. She is recovering and will soon be completely back to normal, being the amazing Great Pyr that she is.
You can return Home from this Great Pyr Story or use your Browser's Back Button to return to the page you last visited.
What Other Visitors Have Said
Click below to see what other visitors have had to say...

---
---